Несколько месяцев назад мама купила штуку, повосхищалась ей, а потом поставила в самый зад полки с кухонными принадлежностями и забыла там.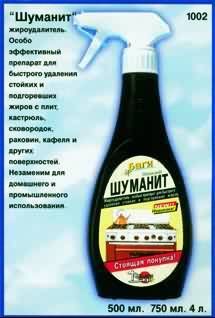 И вот сегодня наконец-то я её тоже попробовала.
Если кто-то ещё не знает, это супервещь, которая моментально отщепляет от поверхности вьевшийся жир. С бытовой грязью у меня отношения такие - не замечать её до того непрекрасного дня, когда внезапно вдруг понимаешь, что больше прикасаться к
этому
ты можешь. И вот вчера, увидев ручки плиты в ярком солнечном свете, я поняла, что готовить горячего больше ничего не буду, пока
это
не уйдёт оттуда. Раньше на отдирание
этого
от ручек и бока плиты уходили большие усилия, а сегодня буквально пшик и всё. Я сейчас пишу и понимю, что получается какая-то рекламная заметка, но оно действительно - пшик и всё. Правда потом лучше протереть ненужной тряпкой и выкинуть её, потому что пишут что сильная отрава. Но это Ы что такое.
*****
I don't know how widely known
Shumanit gel
is elsewhere, but I have finally tried it to day, and I am very impressed.
My mother bought it months ago, tried once or twice, said it was cool, put it in the far back of the kitchen supplies shelf and forgot it there.
Now, my relationship with home dirt is such: I only finally notice it until that day when I realize I am not touching
that
on this surface until after I've cleaned it. Which is what has just happened with the kitchen cooker, I saw its handles in bright morning light and realized I was not cooking anything hot until I cleaned
that
, mentally preparing for the entirely too much amount of effort doing so would entail. Yes, well, there was not any effort involved. Just a puff of that thing. I know this sounds like a bad ad, but a puff was literally all it took. Well, that and cleaning off the remains after washing it off with an old rug that I threw out afterward because it's described as quite toxic. Wow.