I have finished what I can only call crawling through a book on the history of London street names, because I was looking up every one of them on a map of the town, and reading the Wiki articles about these locations if there were any on my map. (I have already recommended the CityMaps2Go app that offers offline digital maps, and I will do so again. I do not doubt there might be more functional maps out there, and neither does the application offer GPS services if you have mobile internet. Or at I don't think so, but I don't use it so I might be wrong. What option it has (numbers of houses, metro line routes, marked landmarks and shopping outlets) are enough for me.
Anyway, I have read the book, and I have been looking at the map of central London for so long that now I have a better idea of the town's geography (and a lot more places I absolutely want to see with my own eyes on my next visit), but I did not pose myself the impossible task of remembering anything that did not wish to stay in my head.
Neither a lot nor very little did.
- That while they count 7 hills in the center of Moscow (I have looked those up several times over, and I can't remember them, for it seems this was done but for the number and the whole "Moscow is the third Rome" thing),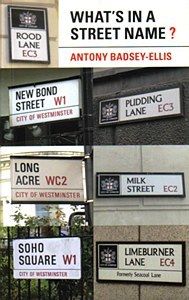 there are but three in the City of London, Ludgate hill, Cornhill and Tower hill.
- That you absolutely cannot tell where a street name comes from just by reading it off the street sign, because nothing is obvious. There are, of course, places like Wormwood Street and Saffron Hill which were named for the plants that grew there (apparently saffron was used to cook slightly rank meat to get rid of the odour. What). And there are others like Milk Street and Silk Street where the milk and silk sellers used to dwell, but those are in the minority.
Rotten row, for example, is a corruption of "Route de roi", "King's road", the road built at the end of the XVII century by William III on the Southern side of Hyde park to travel between Kensington and St James's palaces. Pudding lane was named after the (ick) entrails of animals slain by local butchers, and both Poland and Muscovy Streets got their names after taverns re-named during royal visits of the kings of Poland and Russian (Tsar Peter the Great) monarchs who stayed somewhere close.
- It is quite fascinating that Cheapside comes from the old word for "market" and was earlier named "Westcheap" and was a companion market street to the currently existing Eastcheap.
- And finally, I have created a mnemonic rule to remember that Gracechurch street goes South-North and Fenchurch street, East-West (hello,
Pride and Prejudice
). Grace comes from heaven.
Reading cities' description map in hand, seeing as modern digital maps do all the searching for you, is extremely recommended. I am doing this with a guide book to Vladimir now, and while I could only remember the general outlines of the London parts, here I know most of the described places and buildings, and now I will know where to find them as well as their history. But this is a subject for another time.
*****
Я только что проползла, по другому не назовёшь, по книге о происхождении названий лондонских улиц. Проползла, выискивая каждое из упомянутых там названий на карте и читая прилагающиеся к ней викистатьи, если такие имелись. (Я уже упоминала приложение с оффлайновыми картами CityMaps2Go, но повторю, что оно мне нравится. Наверняка есть и более функциональные, и я не знаю, умеет ли оно определять положение GPS при наличии мобильного интернета, которым я не пользуюсь, но меня устраивают наличие номеров домов, прорисовка линий метро и выделенные основные достопримечательности, магазины и кафе.)
В любом случае, прочитала я эту книгу, и разглядывала карту центральных районов Лондона так много и долго, что теперь имею гораздо лучшее представление о его географии (и гораздо больше мест, которые обязательно хочется увидеть вживую при следующем визите), но я не ставила перед собой невозможную цель запоминть больше, чем то, что само по себе в голове останется.
Осталось не много и не мало.
- В отличие от семи московских холмов (про которые я несколько раз читала, и которые влетают в одно ухо и вылетают из другого, потому что кажутся притянутыми за эти самые уши ради цифры, и "Москвы - третьего Рима"), в лондонском сити (самой старой части города) холмов всего три - холм Ладгейт, холм Корнхилл и холм Тауэра.
- Угадать происхождение названий улиц, не зная их истории, невозможно, каким бы очевидным оно ни казалось, не стоит и пытаться. Есть названия буквальные, вроде Полынной улицы и Шафранного холма, названные по когда-то там росшим растениям (оказывается, давным-давно шафран добавляли в мясо, чтобы отбить душок. Ась?) Есть также Молочная улица и Шёлковая улица, на которых жили когда-то торговцы молоком и шёлком, но таких меньшинство.
Возьмём, например, грунтовую дорогу вдоль южной границы Гайд-парка, по которой и нынче катают на лошадях. Называется она "Rotten row" (буквально - гнилой ряд, гнилая тропа), но это - искажение от французского "Route de roi", Королевская дорога - дорога, которую в конце 17 века построил Уильям III между Кенсингтонским и Сент-Джеймсовским дворцами. Улица "Pudding lane" (буквально - Пудинговый переулок) не имеет никакого отношения к пудингам. "Пудингом" также назывались внутренности животных, которых убивали жившие здесь мясники. И, наконец, Польская и Маскови (Московская) улицы названы были так в честь таверн, поменявших свои названия во время королевских визитов польского короля и Петра Великого (Царь московский, "Muscovy"), останавливавшихся где-то поблизости.
- Любопытно происхождение названия улицы Чипсайд (привет, "Гордость и предубеждение"). "Чип" в ней вовсе не "дешёвый", как может показаться сразбега. "Cheap" - староанглийское название рынка, и ранее эта улица называлась "Westcheap" - западный рынок, в дополнение к и поныне сохранившемуся рынку восточному, или, вернее, улице Истчип.
- И, наконец, исключительно для себя я создала мнемоническое правило, чтобы запомнить, что улица Грейсчерчстрит идёт с юга на север, в то время как Фенчерчстрит - с запада на восток. "Gracechurch Street", "grace" - благословение, которое идёт с небес.
Я ещё раз, последний, повторю, как здорово читать рассказы о городах с картой в руках, особенно теперь, когда электронные карты сами всё тебе находят. Сейчас как раз это проделываю с более литературным путеводителем по Владимиру - кайф. В Лондоне я только смутно могу себе представить район, а во Владимире большая часть достопримечательностей стоит перед глазами, как живая, а теперь я буду знать и их историю, и где точно они находятся. Но об этом, может быть, напишу позже.