It is time to update my
Strange movie classification
.
Besides a dragon movie (
"A dragon movie is a bad movie. It contains nothing but epic scenes and countless unnecessary special effect ones"
), there is a movie with a tame dragon.
This means that you read the movie's description, and you suspect it to be a dragon movie, but you watch it anyway because something makes you curious, and you get a pleasant surprise: there are many "empty" computer generated scenes, such as chases,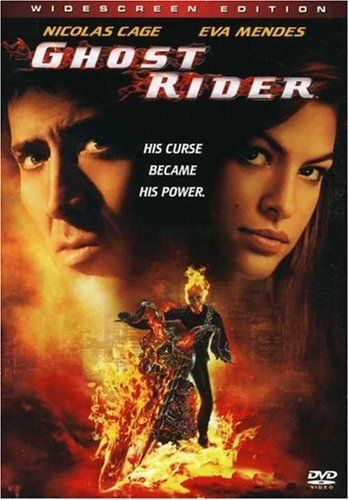 transformations, epic armies battling, all that rot, but there is also an interesting story line, good acting work, nicely written characters that make the other rubbish not very offensive.
The first
Ghost Rider
(2007) is one such movie. The special effects are boring and the scenes with them are a bit too long, but the characters themselves and their interactions are quite enjoyable, and the symbolic things also interesting to discover (meeting the devil at crossroads, love confessions and farewells under a tree, a painted church window depicting George and the serpent).
I cannot even say what character I liked best, because they were all good in their own ways, and different in different situations, and you could see them change from situation to situation. Yum. Well, besides the earth-air-water demons who only did demon work (boring, even though nicely shown).
I think
The Lord of the Rings
movies are ones with very tame and rather well-balanced dragons.
*****
Настало время дополнить мою
Странную классификацию фильмов
.
Помимо драконьего фильма (
"Если фильм — о драконе, это очень плохо. Это значит в нём, можно считать, нет ничего кроме эпических сцен с совершенно ненужным количеством спецэффектов"
), есть фильм с ручным драконом.
Это значит, что, прочитав описание фильма, подозреваешь, что фильм — о драконе, но всё равно смотришь, потому что он чем-то цепляет, — и приятно удивляешься: в фильме, конечно, есть "пустышки", компьютерные спецэффекты, рисованные сцены погонь, превращений, эпичных битв и тому подобная мишура, но помимо них в нём также встречаются интересный сюжет, игра, хорошо прописанные персонажи, ради которых можно и потерпеть остальной мусор.
К таким фильмам относится превый "Призрачный гонщик" (2007). Спецэффекты в нём скучные, и сцены с ними слегка растянуты, но кроме этого есть замечательные персонажи, замечательное взаимодействие персонажей и красиво и ненавязчиво показанный окружающий историю симоволизм (встреча с дьявлом на перекрёстке дорог, объяснение в любви и прощание под деревом, витраж в церкви, изображающий побивающего змея Георгия).
И даже сложно сказать, какой из персонажей больше понравился, они все чем-то хороши, потому что они "живые" и разные в разных ситуациях, и видно как меняются от ситуации к ситуации. Кроме разве что троицы земельно-водяно-воздушных демонов, которые только и делают, что ведут себя, как демоны (но это красиво показано).
Ещё один фильм с очень ручным драконом — наверное "Властелин колец".