— Мам, сфотографируй меня с красивым вагончиком!
— Mum, take my picture with the pretty car!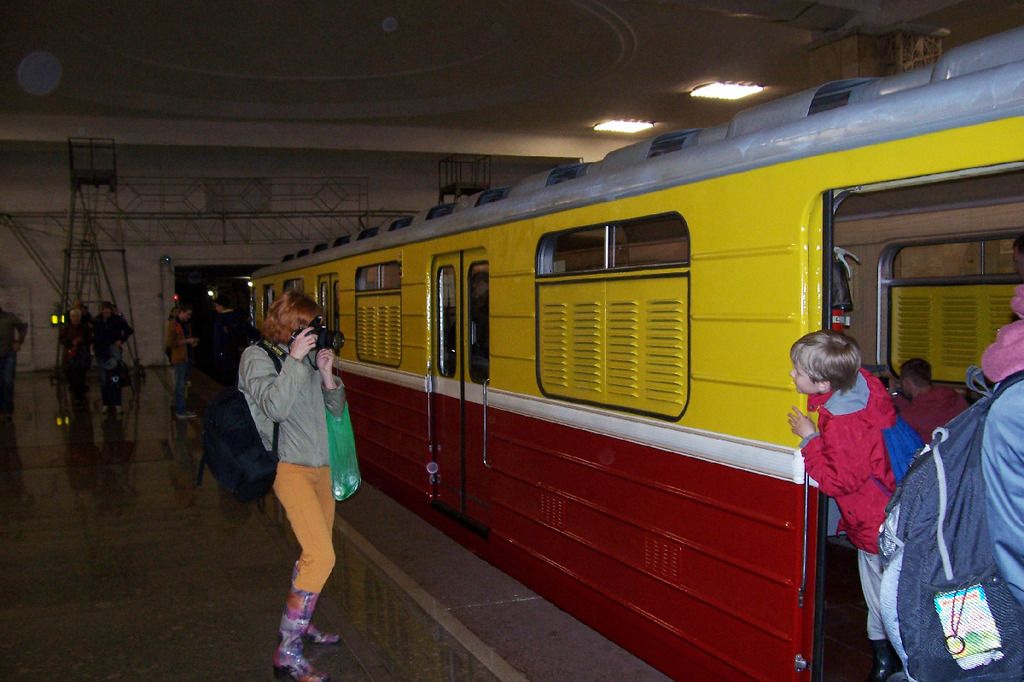 — Ну сфотографируй, а?
— Pleaaase?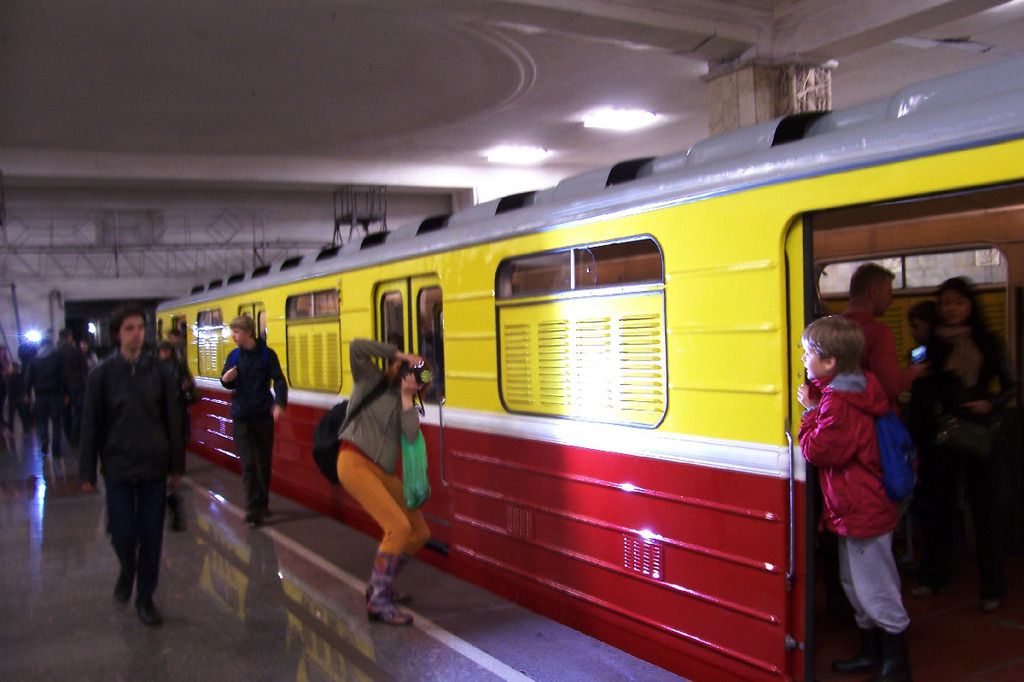 Первая линия московского метро, Сокольническая, открылась 15 мая 1935 года, поэтому вчера и сегодня в метро проходили мероприятия - парад поездов всех ныне работающих моделей на Кольцевой ветке и выставка старых вагонов на станции Партизанская. На Октябрьской станции Кольцевой линни, говорят, парад позавчера открывал оркестр (и куча больших шишек), а на Партизанской пригласили
рекнострукторов
в нарядах 30х – 40х годов, но мы ездили смотреть и то, и другое вчера.
*****
The first Moscow metro line going from South West to North East opened on the 15th of May 1935, and yesterday and the day before, several events took place in Moscow underground: the parade of trains of all the train models currently in service on the Circular line and an exposition of old and service trains on one of the few stations that have a third track in the middle. They say parade was opened by a lot of bureaucrats and orchestra early Friday morning and
history buffs
dressed in mid-XX-century garments were invited to the first day of the exposition, by my mother and went to see both of those yesterday.
Все фотографии с текстом кликабельны, большинство из них читабельны.
All text pictures are clickable, most of them are also readable.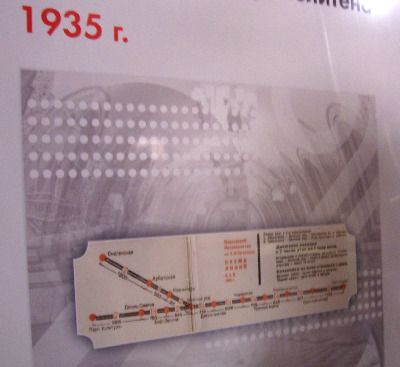 Первая схема метро выносит мозг раздвоенной линией и похожестью на метро в других странах, где развоенные и растроенные концы линий — стандарт, и нужно внимательно смотреть и слушать, куда едешь. Она также объясняет почему на метро ездили "от Сокольников до Парка".
I was very surprised by the first scheme of the metro. It seems quite natural in retrospect, because what else could it have been with no Circular line yet and only two others, but it struck me as very similar to Boston metro with its fishtail green lines where you have to take extra care to go in the direction you need.
ВАГОН ТИПА "А"
Эксплуатировался в 1935 – 1976 гг.
CAR TYPE "A"
In use 1935–1976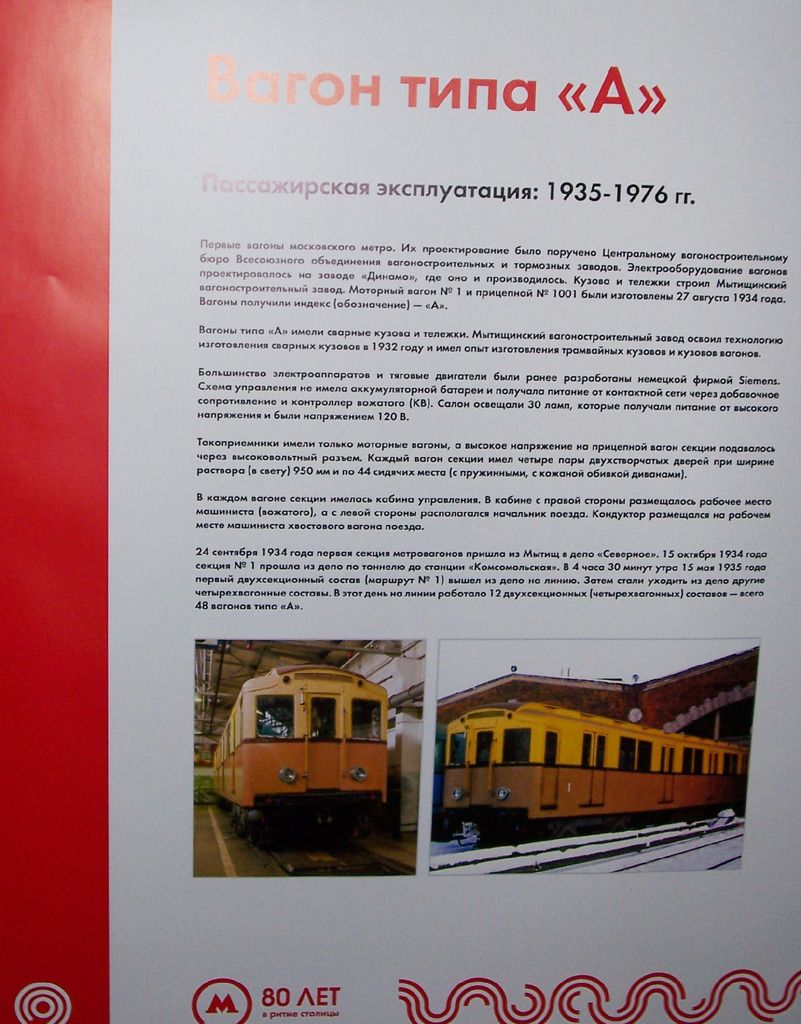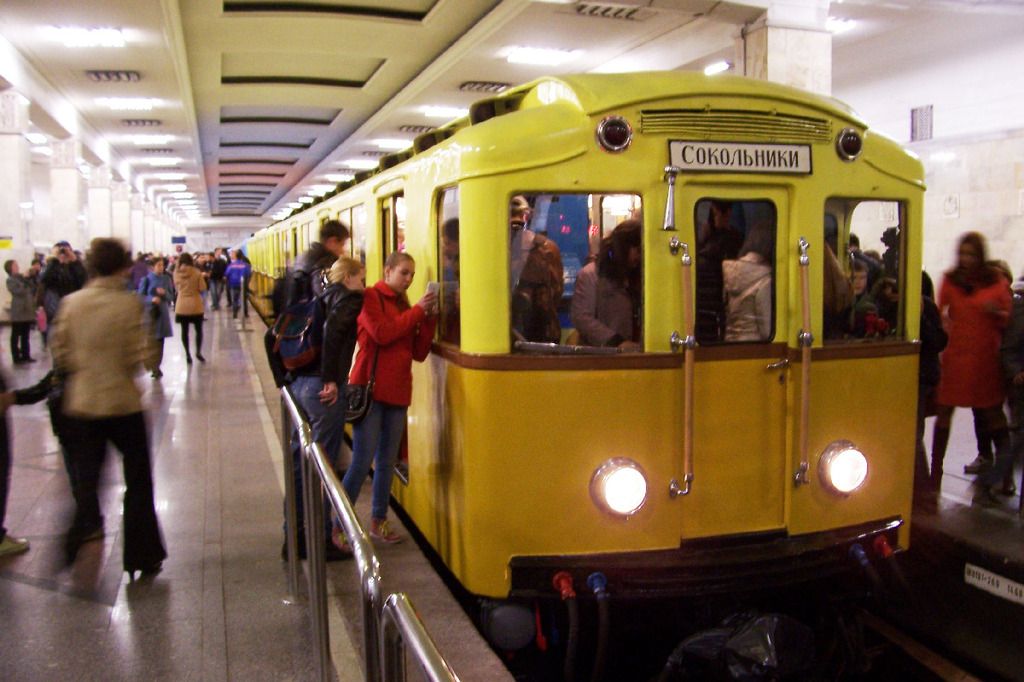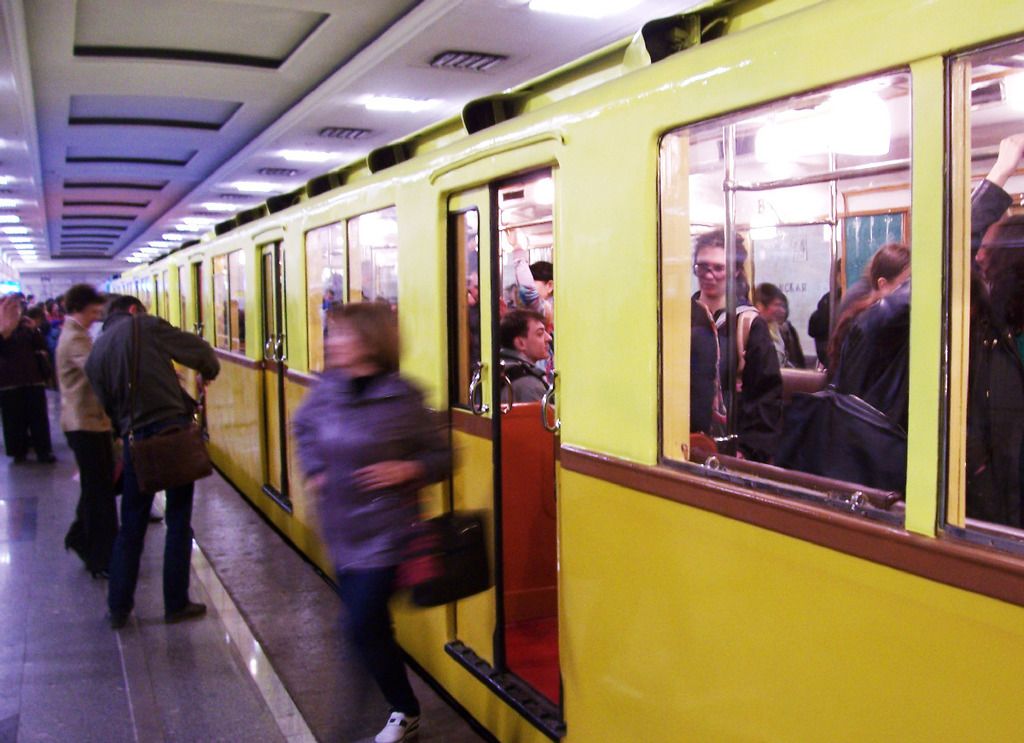 Жёлтый, с квадратными дверями и окнами, которые ещё к тому же видимо открывались целиком, скользя снизу вверх и с ручками для открывания дверей.
Yellow with square doors and windows that apparently opened by the whole pane sliding upwards and with handles to open doors.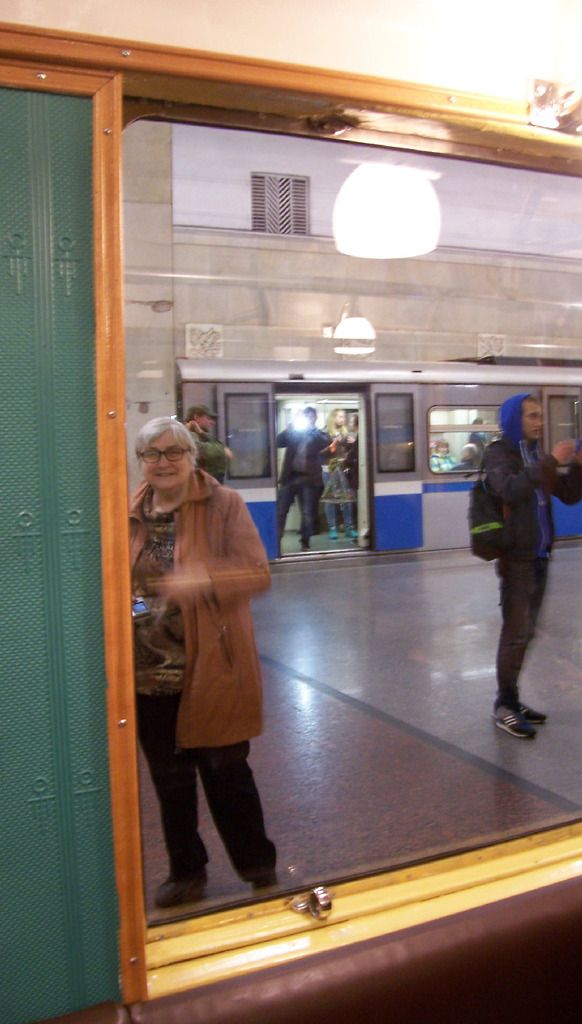 На стенах зелёные тиснёные панели. За окном мама и современный поезд.
Вот что странно: я смутно помню поезда с зёлёными стенками изнутри, но совсем не помню поездов жёлтых снаружи. Может быть, конечно, я путю метро с электричками.
Textured green panels on the walls. My mother and a modern train outside the window.
It's strange, I dimly remember riding in cars that were green-walled on the inside but not ones yellow on the outside. Or were these commuter trains?
ВАГОН ТИПА "Г"
Эксплуатировался в 1941 – 1982 гг.
CAR TYPE "G"
In use 1941–1982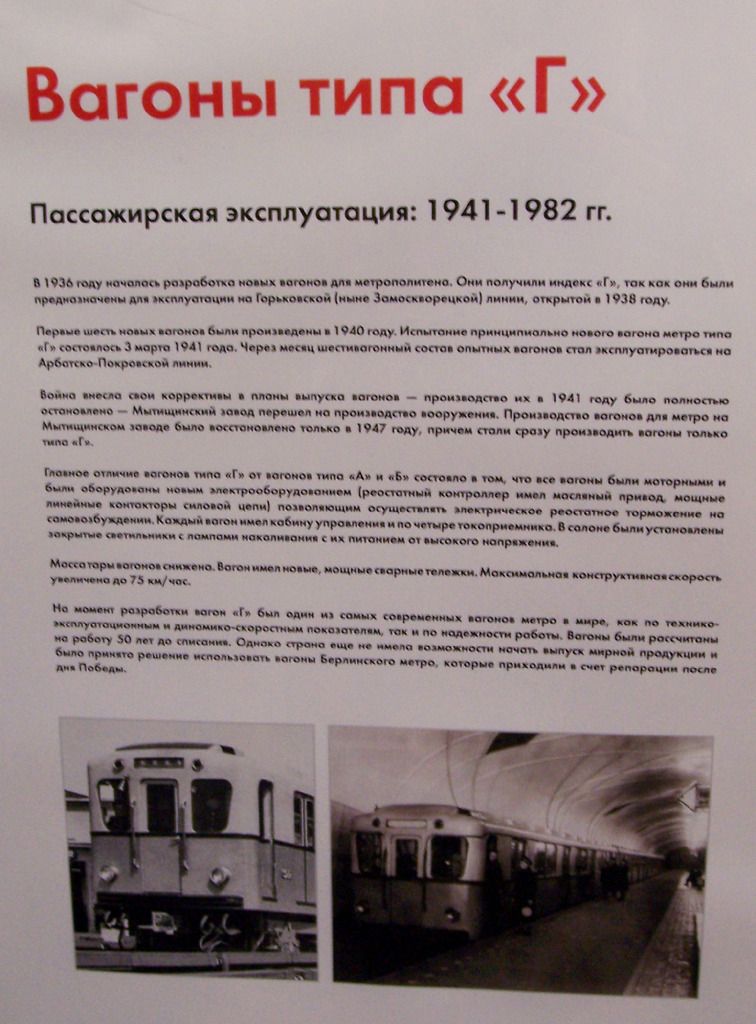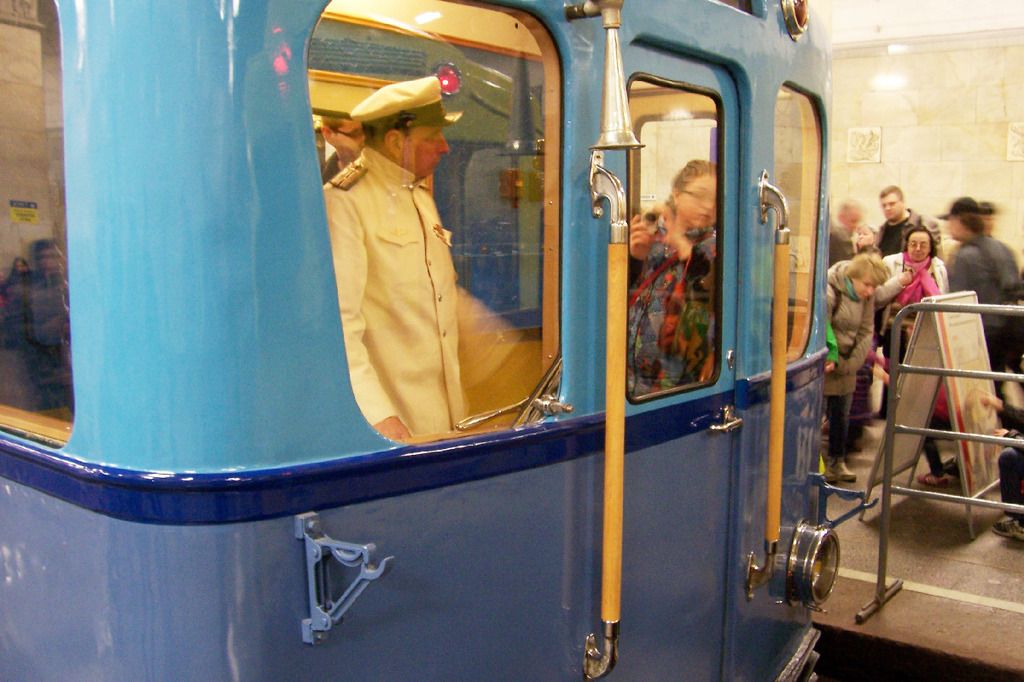 Единственный присутствовавший вчера реконструктор.
The only dressed-up person present yesterday.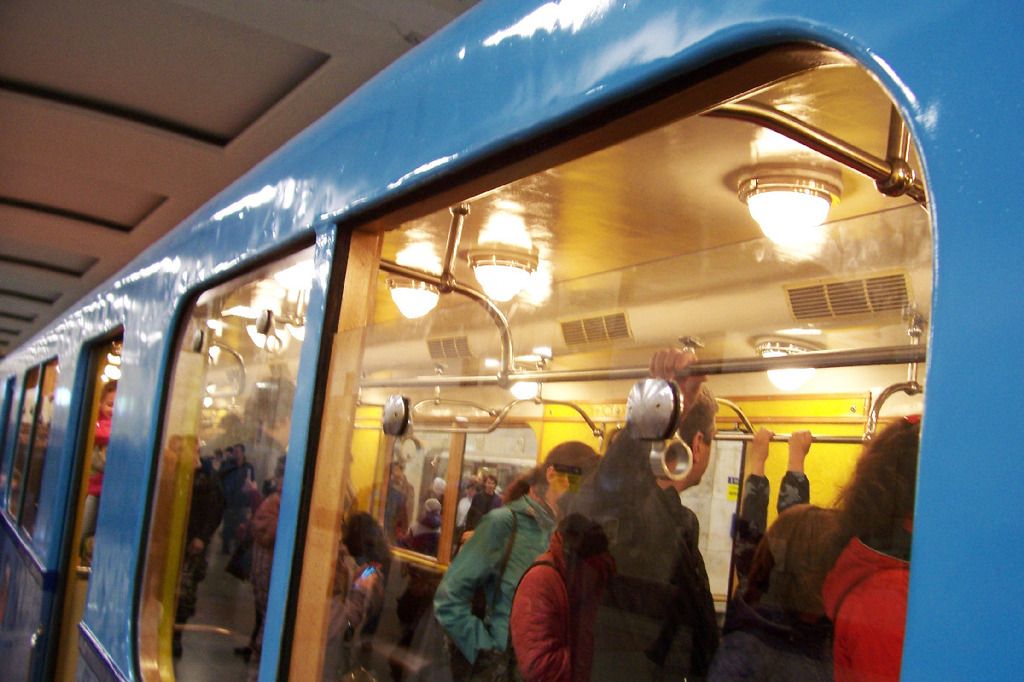 Если присмотреться, видно, что правое стекло приопущено (уже сверху вниз в этой модели вагонов), а также две металлические блямбы с кольцами, насковзь продетые через стекло, чтобы его опускать.
If you squint, you will see that the right window pane was slid down (downwards already in this car type) as well and the two metal things with rings that were put right through the glass to move it.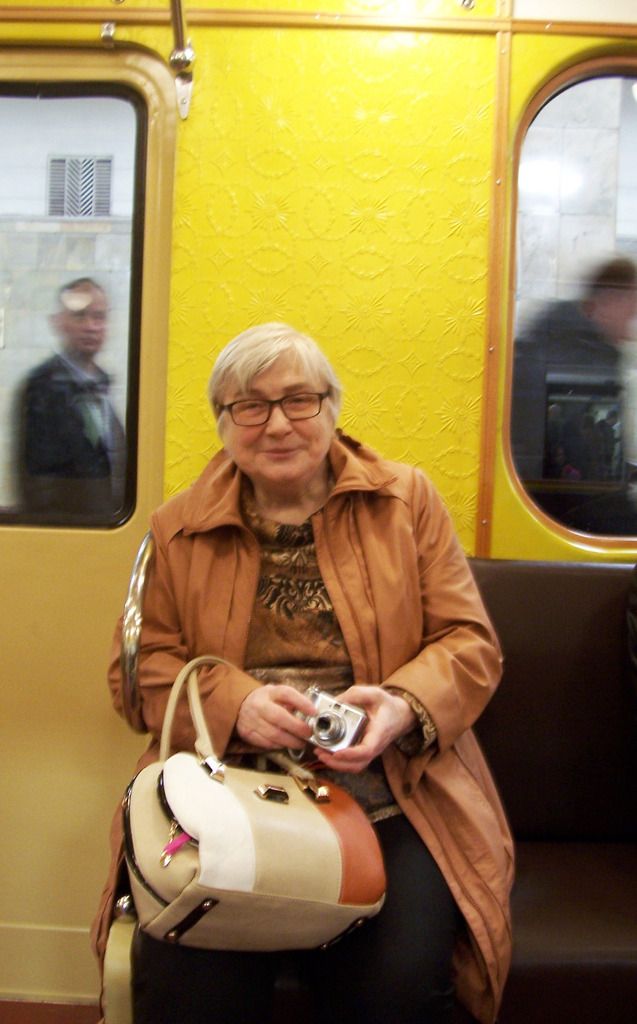 Мама.
Mum.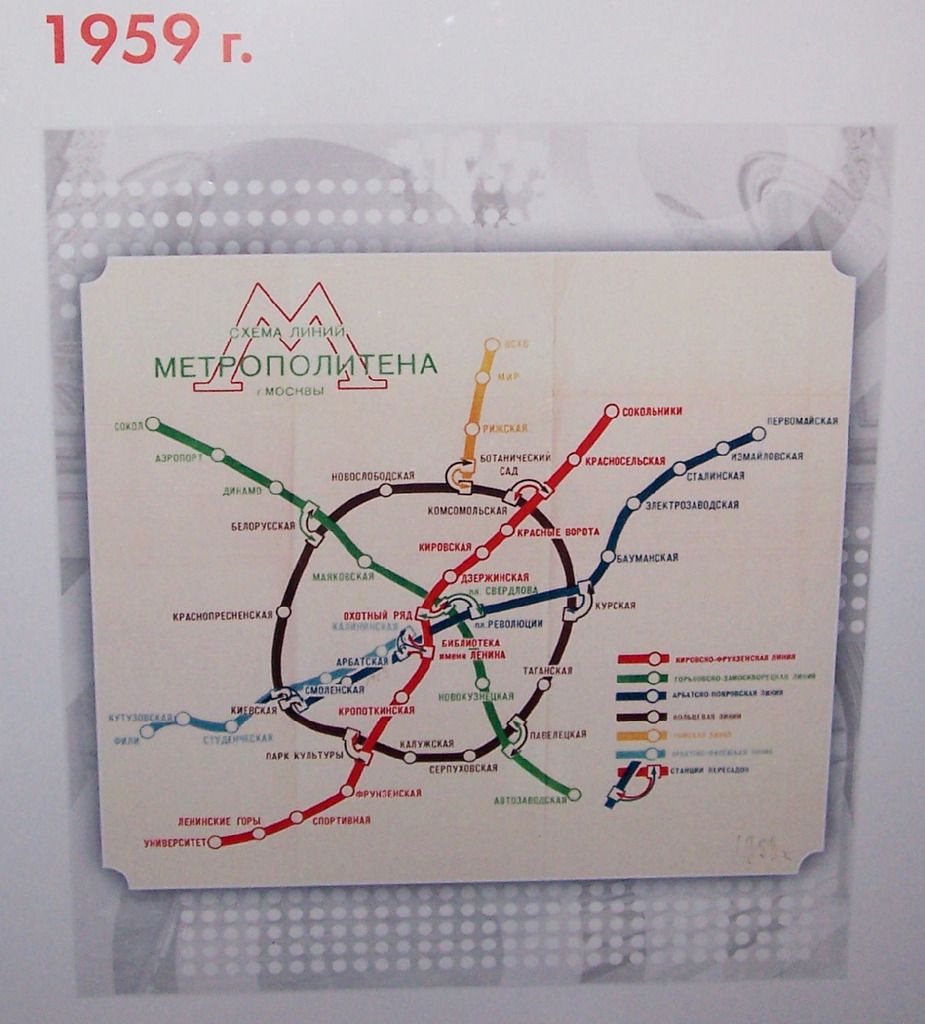 Таким было наше метро в 1959 году, когда мама кончила школу. Привычный радиально-кольцевый вид, хотя кольцо пока ещё не условное, а приближенное к местности, как и сами линии. Очень странно видеть на "рыжей" ветке кольцевую станцию Ботанический сад.
Our metro in 1959, when my mother left high school. It already looks it usual self, with circle and radii, even though they are not the schematic circle and lines of today yet, but closer to what they would look like on an actual map.
ВАГОН ТИПА "Д"
Эксплуатировался в 1956 – 1995 гг.
CAR TYPE "D"
In use 1956–1995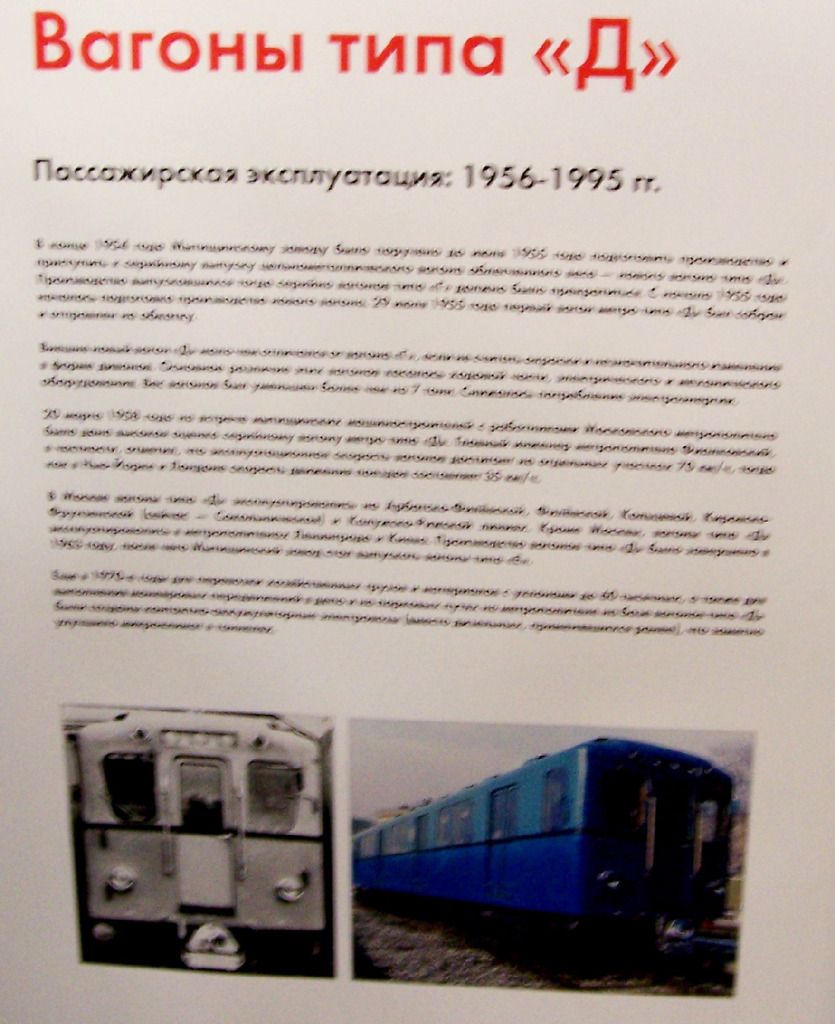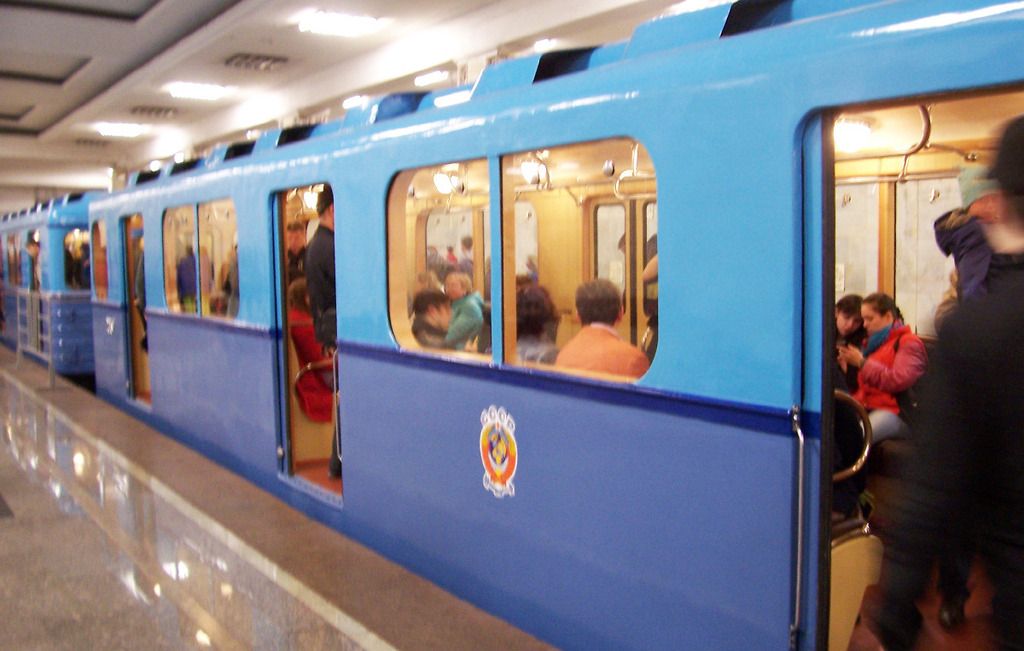 Более овальные окна и двери.
Герб на всех вагонах вызывал заметное оживление и желание с ним сфотографироваться. Не знаю уж почему.
More oval windows and doors.
The USSR coat of arms was there on every car, and very popular to take pictures with. I wouldn't know why.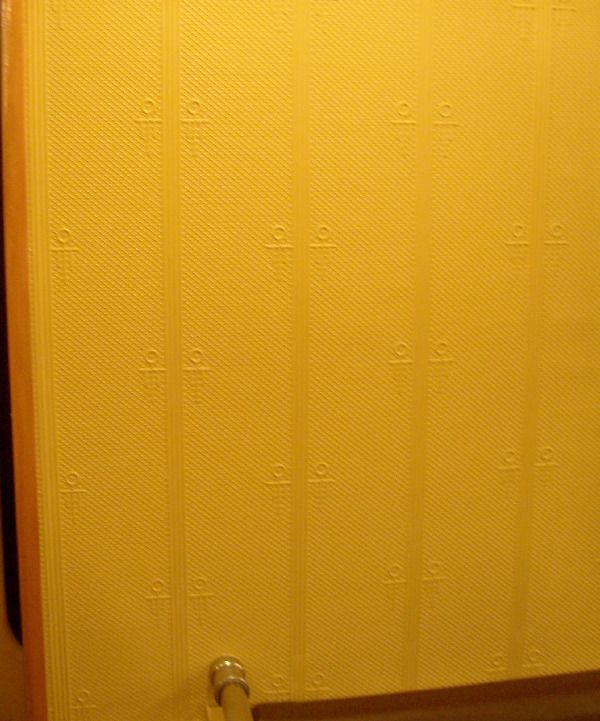 Желтые панели на стенах.
Yellow wall panels.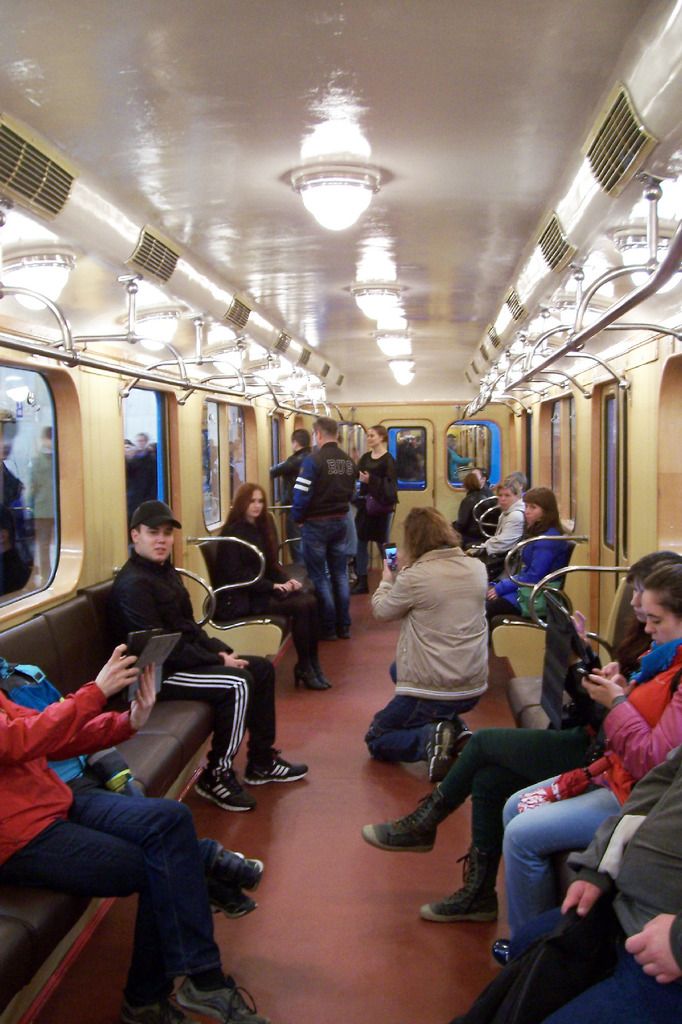 ВАГОН ТИПА "E"
Эксплуатировался в 1961 – 2008 гг.
CAR TYPE "E"
In use 1961–2008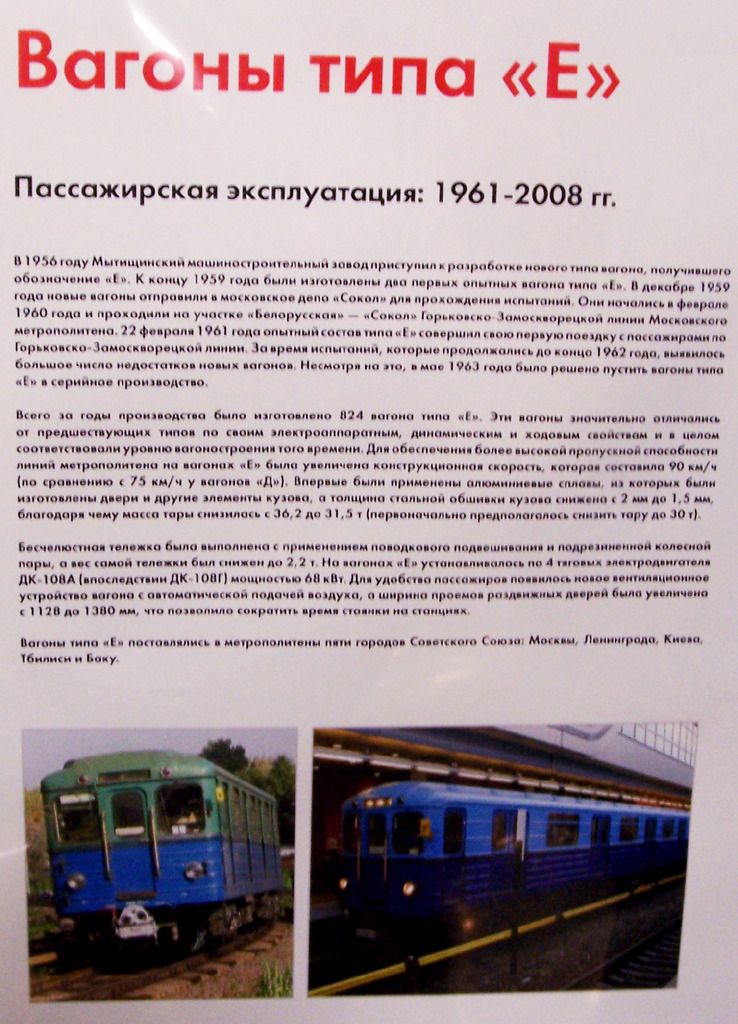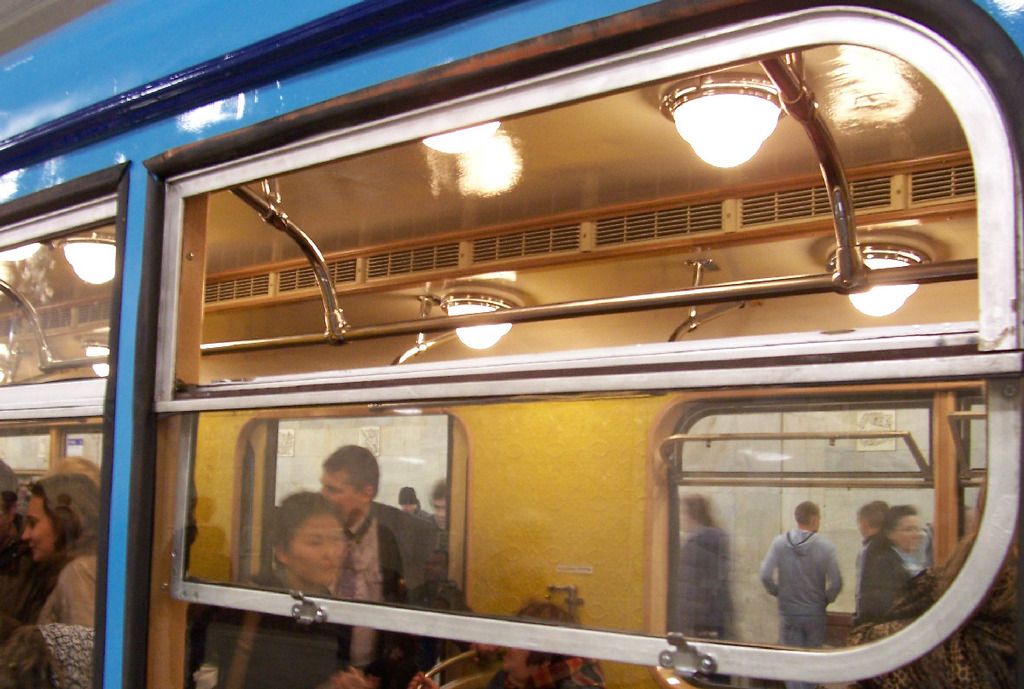 Появились форточки, открывающиеся в двух положениях - повешенном вниз и приокрытом (видно на заднем плане).
Window now boast small opening parts that can either be open all the way or part way (as can be seen in the background).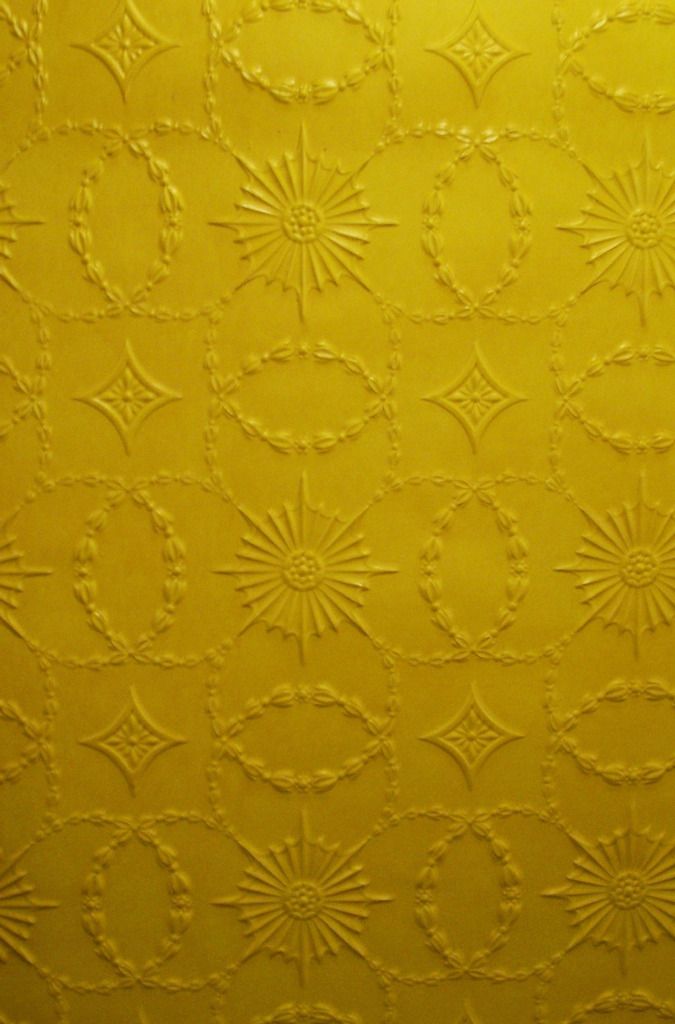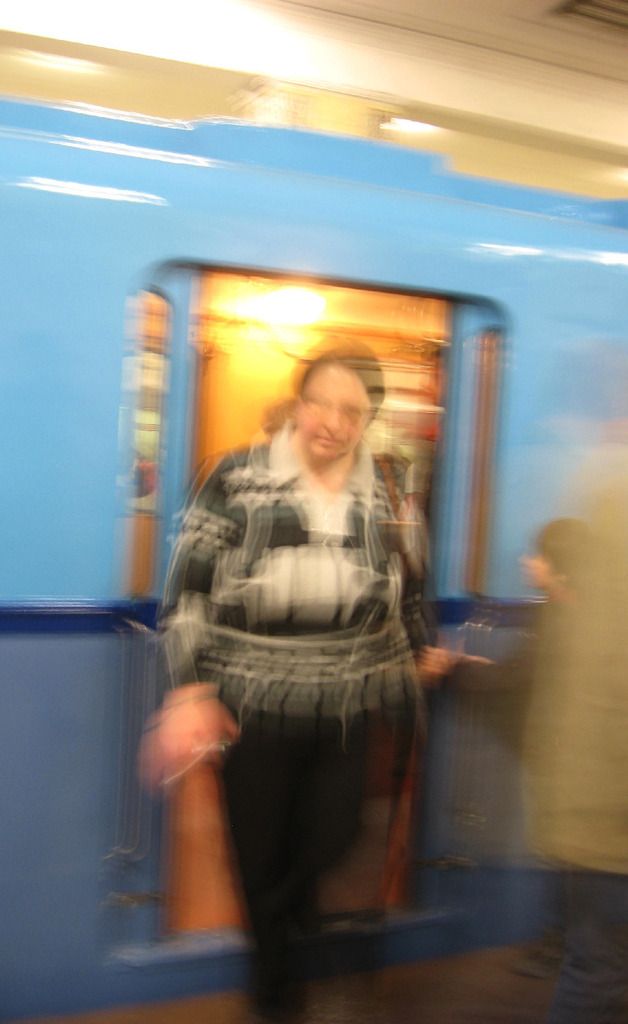 СЛУЖЕБНЫЙ ВАГОН-ПУТЕИЗМЕРИТЕЛЬ
SERVICE CAR 'ROAD-MEASURER'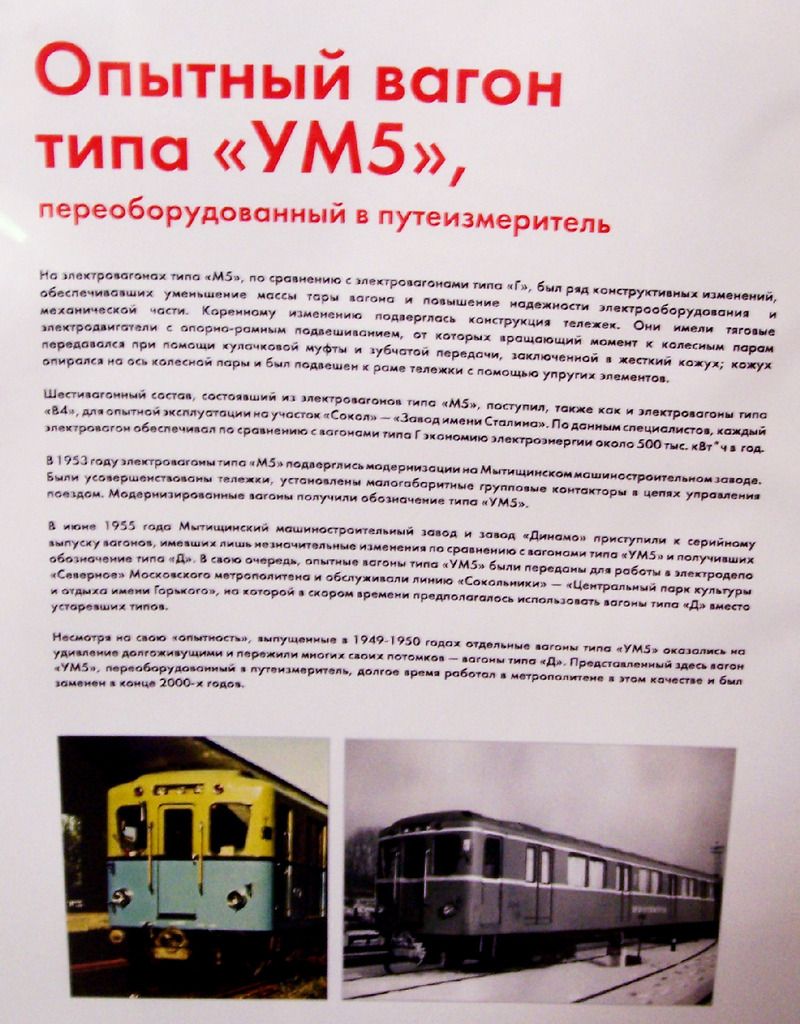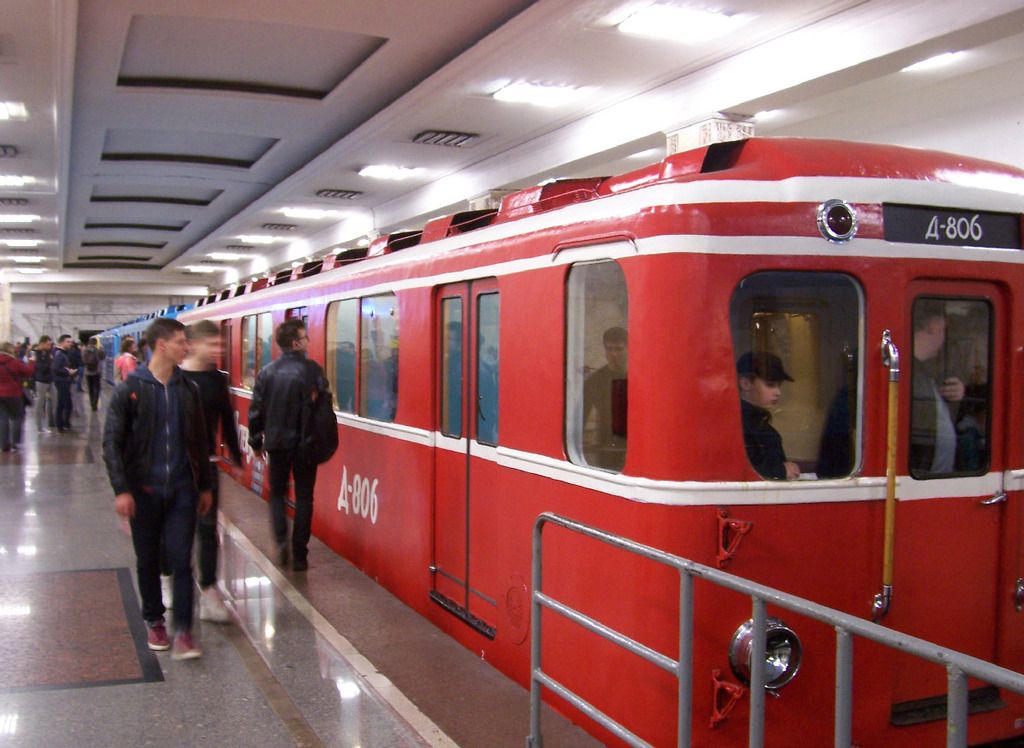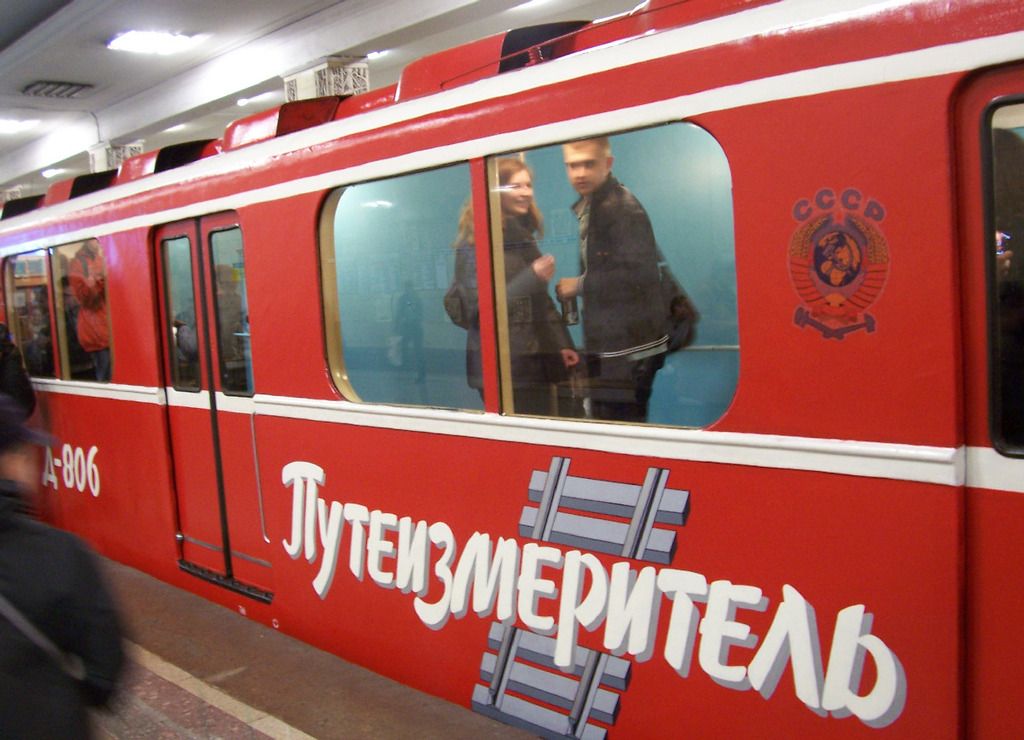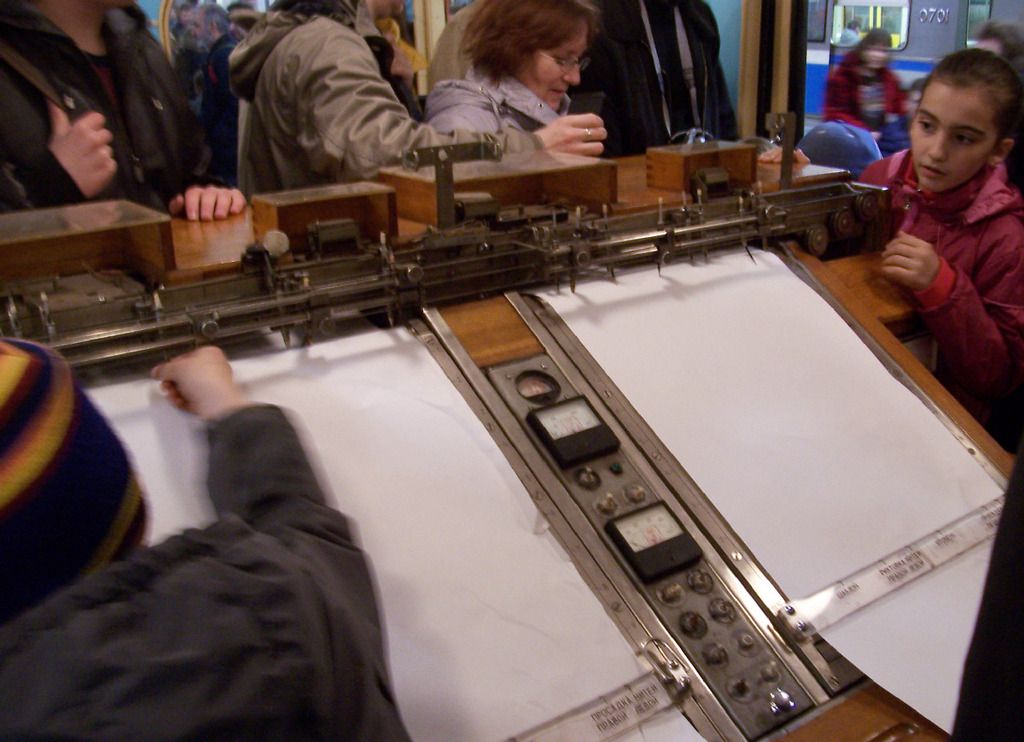 Только аналог, никакой цифры.
Everything analogous, nothing digital.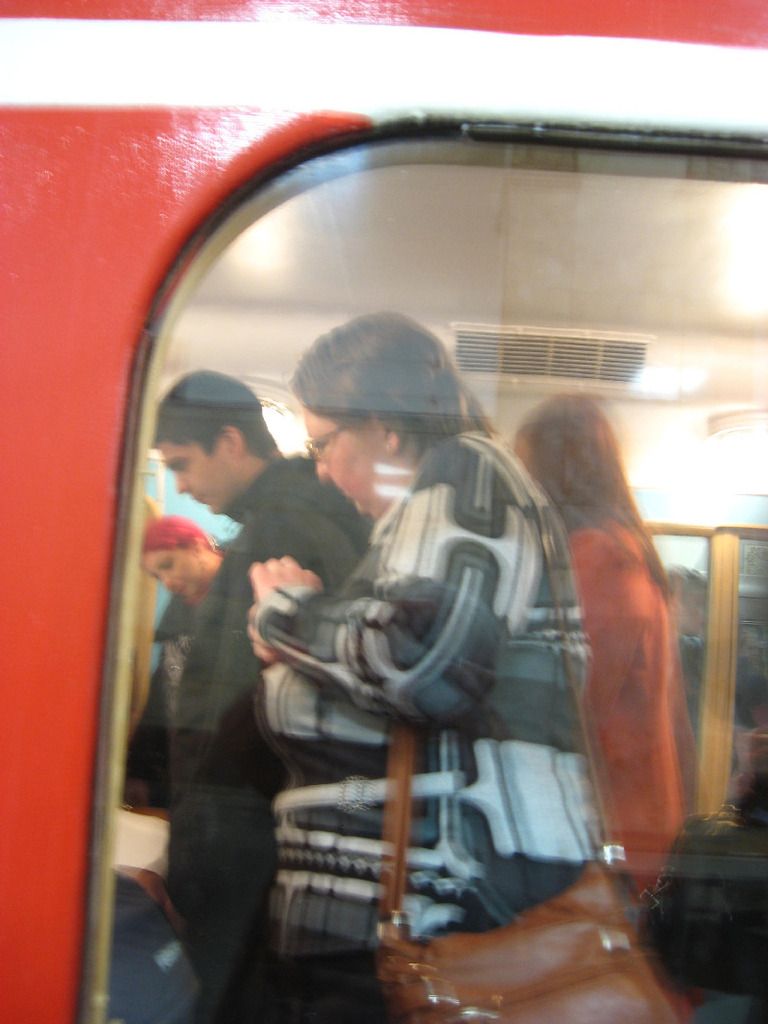 Очень интересный аналог.
Analogous means fascinating.
СЛУЖЕБНЫЙ КОНТАКТНО-АККУМУЛЯТОРНЫЙ ЭЛЕКТРОВОЗ
SERVICE 'CONTACT-BATTERY' LOCOMOTIVE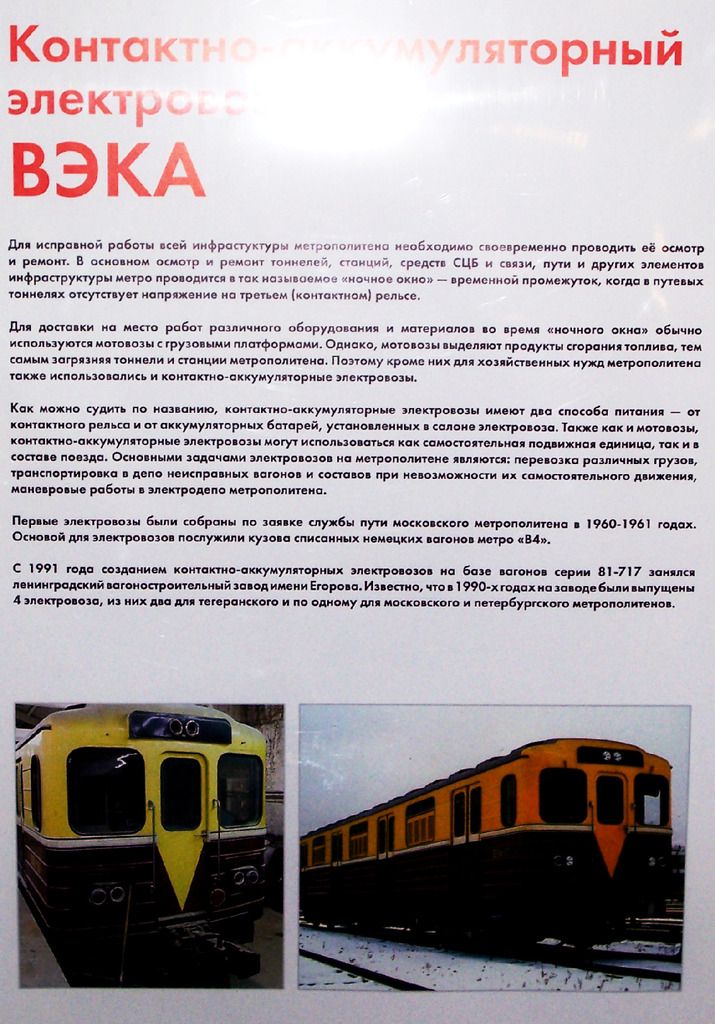 During the day, high voltage is applied to the contact rail in the metro that normal train use to travel. During the night, the high voltage is taken off to allow maintenance work. This locomotive uses the voltage to move during the day (contact) and its huge batteries during the night.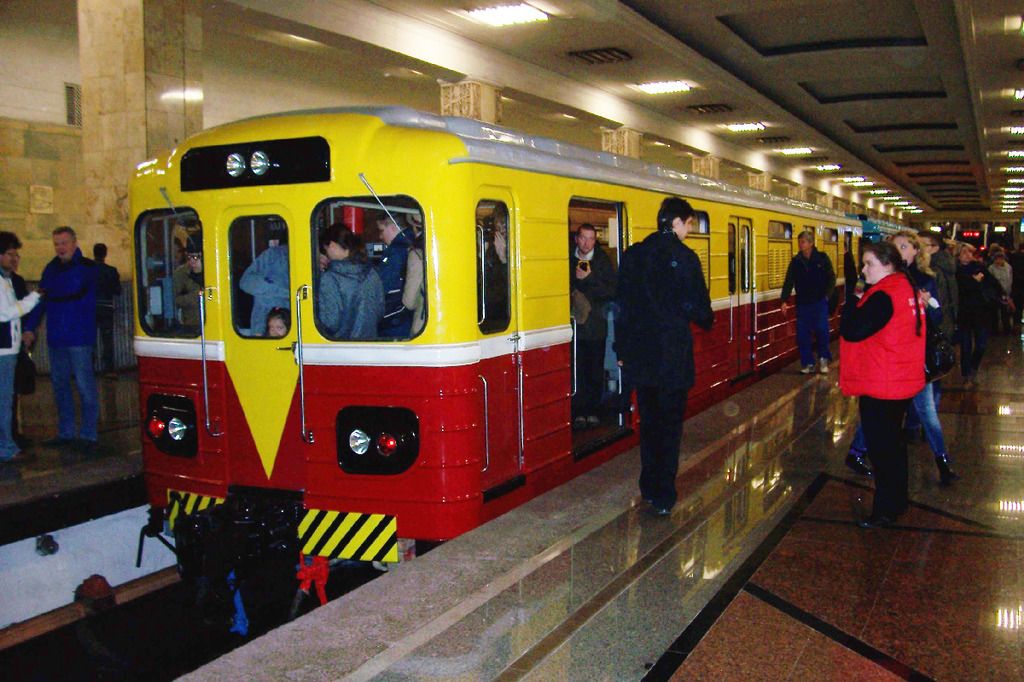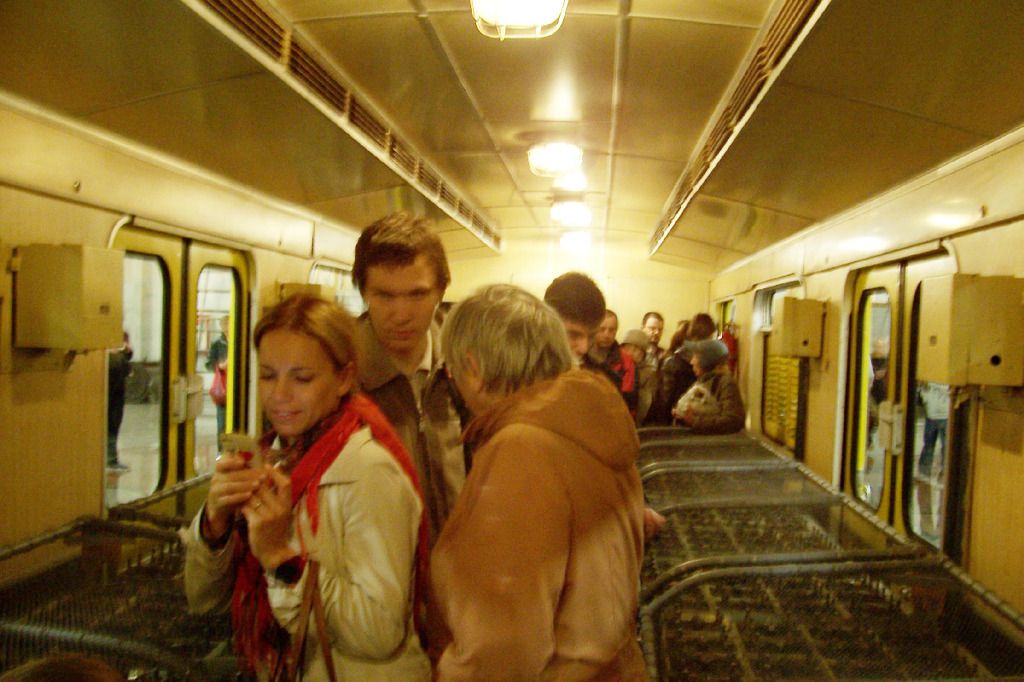 Продолжение следует.
To be continued.