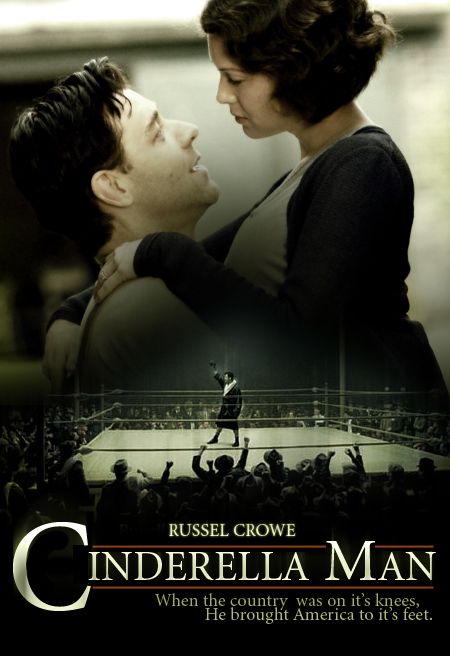 Посмотрела сегодня очередной фильм по принципу "тыкни пальчком в фильмографию интересного актёра и выбери что больше понравится по описанию". Из фильмографии Рассела Кроу выбрался биографический фильм об американском боксёре
Джеймсе Браддоке
которого после его неожиданного возвращения на ринг после серии неудач прозвали
Золушкой
, или человеком-Золушкой (Cinderella Man). Наши горе-переводчики обозвали этот фильм "Нокдауном".
Симпатичное кино, много пробирающих сцен. Но бокс. Сначала хотела сказать, что сцены боёв вызвали чувство глубокого овращения, но это не совсем так. Скорее непрязни, страха и непонимания, зачем люди такое с собой делают. Стандартная однобокость "главный герой хороший, противники — плохие или недостаточно хорошо показаны" тоже присутствует.
Но в целом нра и на пересмотр.
*****
Today was a "browse through the filmography of an interesting actor, randomly choose movie by description" night. I chose
Cinderella Man
this way, which is a biography of the American boxer
James Braddock
who was called Cinderella Man after his miraculous come back to the ring.
Likeable movie with many touching moments. The boxing scenes, though, ugh. At first, I wanted to say they were profoundly disgusting, bu that is not quite true. Rather, they are of the sickening, scary, can't-wait-for-it-to-end even though I know the result and also of the "why, why do people do this to themselves" variety. There is also some predictable one-sidedness "the protagonist is good, his opponents are either bad or not shown in enough detail".
On the whole, liked it well enough to watch again some time.
Current Mood:

content