I was introduced to Andre Norton's Science Fiction novels in 8th grade by a friend and promptly devoured all her books the Moscow Central Children's Library had to offer, what relatively few compared to the overall number of her works they had.
Years later, a new and expanded edition of both her Sci-Fi and fantasy novels was commissioned, of which I have bought a rather large part, including many from the
Witch World
. However, while I like many of those latter novels, I can not quite connect with that place completely. There is always something "off" that does not allow me to fully enjoy them.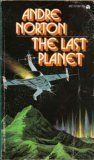 The "offness" is not the fault of the frankly atrocious translation that was perpetrated too quickly by several translators who were not even required to hash out the specific terms.
My favourite though are her Science Fiction stories. The early
Solar Queen
tri(?)logy and the three or four novels about space exploration by Earthmen that ends with
The Last Planet
. The translators being who they were, I have always written off inconsistencies in terminology as the fault of the middleman and wondered why all my favourite Norton's works were out of print and therefore not very accessible in Russia (seeing as you have to look hard to find second-hand sellers who mail their stuff here).
After some shenanigans that consisted of a "trade" with a that friend, who now is a Russian American, in which I brought her an order of Russian children's book in exchange of her receiving an order of goodies to her American address when I came to visit (not that any of us would not have done their part without the exchange) I finally got my hands on the latter novel a year and a half ago.
Some little part of me now wishes I did not, because horrible translation aside, it shows that those were her early works. The language inconsistencies are the fault of the author and there are not-quite plotholes in the story line. Pity. But these books are still my favourites.
*****
С творчеством Андре Нортон меня познакомила подруга классе в восьмом. После этого я очень быстро проглотила все её книги, которые можно было достать в Московской детской библиотеке, — всего десяток или полтора и каплю в море всех её произведений.
Лет через десять вышло новое расширенное издание её книг, включавшее в себя не только в основном научную фантастку, как предыдущее (или та часть предыдущего, которая нашла себе место в библиотеке), но и фэнтези, и особенно "Колдовской мир". Я прочитала "с пылу с жару" пару десятков или больше книг из "Мира", но он никогда не был "моим" миром, или никогда не был им до конца. Почти в каждой книге есть моменты, которые сидят не так и мешают, как шатающийся молочный зуб. И дело здесь не в овратительном переводе, сделанном параллельно несколькими переводчиками, которых не заставили даже согласовать специальную терминологию.
Мне по-прежнему больше нравится научная фантастика Нортон, особенно первые три повести серии "Королева Солнца" и серия о земных космопроходцах, последняя книга в которой называется "Последняя планета". Все несостыковки в терминах в этих книгах я относила к переводческим огрехам и удивлялась, почему эти книги вышли из печати, и соответственно трудно доступны у нас здесь в подлиннике (людей, которые посылают букинистические книги в Россию найти конечно можно, но не очень просто).
Поэтому пришлось скооперироваться с той самой подругой, которая теперь живёт в США. Я привезла её детям отсюда наших книжек, а она в ответ получила мой заказ из старых книги и нескольких фильмов (конечно мы так не считаемся, и обмен был необязателен). В результате я наконец-то смогла прочитать ту самую книгу.
И немножко жалею, что мне это удалось, потому что теперь понятно, почему первые книги Нортон вышли из печати. Потому что теперь ясно, что не очень связная терминология и почти дыры в сюжете — её рук дело. Жаль. Но эти книги всё равно — самые любимые.