Продолжаем культурно шокироваться "Таинственным островом".
В самом начале книги есть пикантный момент: заядлый курильщик Пенкроф теряет свою любимую коробку спичек, а остальные будущие колонисты... выкинули свои за борт когда воздушный шар терпел бедствие. В результате на них всех остаётся одна-единственная (опасная) спичка, случайно застрявшая в подкладке жилета Гидеона Спиллета, которой они благополучно разводят свой первый костёр.
Сколько раз я ни перечитывала эту сцену, никак понять не могла, что за коллективное безумие их обуяло - выкидывать ничего не весящие спичечные коробки, даже в такой катастрофической ситуации. А вот нифига оказывается они были тогда не ничего не весящие. Пенкроф с Гербертом там ходят ищут его потерянную коробку спичек, и уверены что не могут её не заметить, потому что она... медная.
Моя рыдаль.
*****
More
Mysterious-Island
-caused culture shocks? Yes, please.
At the very beginning of the book, there is an interesting scene. Ardent smoker, Pencroff loses his beloved matchbox while other future colonists... have thrown theirs overboard when their balloon was crashing into the ocean. As a result, they are left with one single match that was stuck in Gideon Spillet's waistcoat lining, which they successfully use to light their first fire, it being a 'dangerous' match.
As many times as I read this scene, as many I have wondered what madness had possessed them all to throw away something as light and essential as matchboxes. Yeah, well, those old matchboxes? They were not light at all. In that scene, Pencroff and Herbert try to find his beloved box and they are sure they could not possibly miss it, because it is... copper.
I am in hysterics here.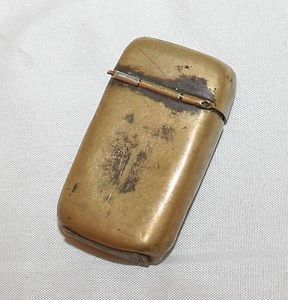 Предложенное интернетом изображение французской медной спичечной коробки
родом из XIX века
Internet-offered picture of a XIX century French copper matchbox
Did I get the order of adjectives right in the last description? :-)
Current Mood:

bouncy