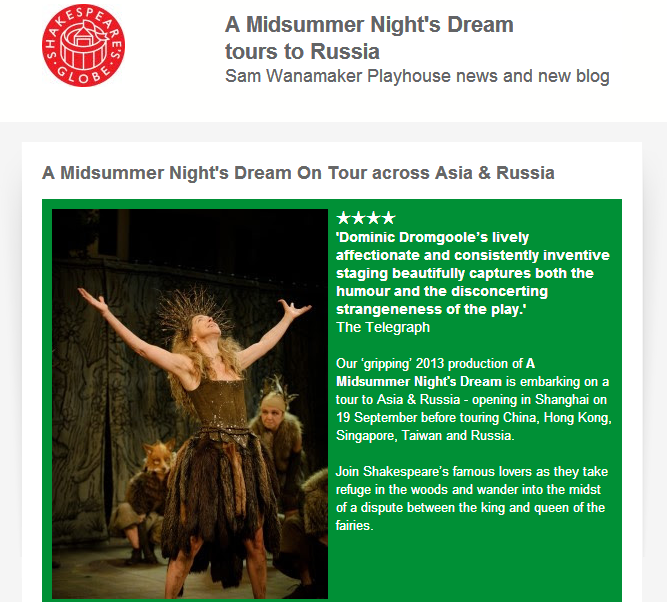 On the one hand, it's a play I have seen both on screen and in theatre and never liked. On the other, it's the Globe. In Moscow. Depends on the price of the tickets then, which are not on sale yet. I am certainly not paying more than for the West End shows.
*cries* and no groundlings
UPD. I am the last to know the news. The tickets are being sold since late January and less than 10 per performance are left. The tour is part of Chekhov festival. I have decided to go, after all.
*****
С одной стороны, это "Сон в летнюю ночь", который я смотрела несколько раз, и ни по телевизору, ни в театре он мне не понравился. С другой стороны, это "Глобус". В Москве (Питере, Екатеринбурге и Пскове). Посмотрим сколько билеты будут стоит значит (картинка - ссылка на страничку с расписанием гастролей, но билетов на спектакли у нас пока нет). Больше чем за лондонские спектакли я за это платить не стану.
*плачет* и стоячего партера не будет
АПД. Оказывается, билеты
продаются
уже с конца января. И осталось их меньше десяти штук на представление. Оказывается, этот спектакль - часть чеховского фестиваля. И я таки пойду. Даром что ли наконец-то начали по одному из грантов зарплату платить.