I know a man. He is tall, pot-bellied, with a large meaty nose and angular countenance. His face is ruddy, his eyebrows bushy, his hair flaxen where it was once ginger. He has piercing hawk-like eyes and a baritone voice hoarse from excess smoking. The man is imposing, slightly intimidating and has a reputation for being a "beast" of a teacher among the students of the Moscow Engineering Physics Institute where he has been a Professor of General Physics for more than forty years.
The year I started my studies there, he gave one of my groupmates 7/10 during the entrance exam, which is not a bad mark but not a good one, either, and told her that she was going to wash out before the year was out.
The man likes his discipline: if you are more than five minutes late for class, you leave and do not come back without a pass from the dean; you talk during a lecture, and you are out; at the end of term, you have to present all assigned homework for perusal to get your credit.
He is feared by some, talked about behind his back by many, and told funny and horror stories about by more than a fair few.


He is also a brilliant lecturer, an unparalleled practical work leader both in the lab and in the classroom, my all-time favourite Teacher and...a big old softy underneath his academic persona and one of the few true gentlemen of my acquaintance. He has been a source of inspiration and admiration ever since my first week at college fifteen years ago and also the reason I am who I am on such a deep level as is scary to contemplate.


*****
The ordinary high school I'd graduated from may have offered a larger than average number of language classes, yet it did little to prepare me for the intensity and level of work expected at college, notwithstanding the two years of extra classes in maths and physics I had taken in preparation. The fist term, I floundered and could hardly read my textbooks, which seemed too dry, too patchy, and too confusing. My saving grace were notes taken in theory classes because our Professors managed to explain most subjects in a hands-on manner the assigned books failed to come close to. Even then, I barely managed to scrape by with C's in the core subjects and a steady B in Programming.
The wake-up call and the turning point for me at the time was the first exam in the man's subject, which that term was Mechanics, even though I did not realize until much later how very close I came to failing it. I will never forget the look of exasperated fond disappointment he gave my failing attempts to explain the basic principle behind a physical phenomenon before leaving the classroom for a smoke break, giving me the few precious minutes it took my brain to reboot and find the (obvious) answer.
And thus it continued for the five wonderful terms I had with him, a thorough understanding of the basic principles followed by a steady logical build-up to more difficult matters, no shortcuts, no "as everybody knows", just elbow grease and understanding.


What he did, in the end, was teach me how to study and structure knowledge, and for this gift I shall always be grateful.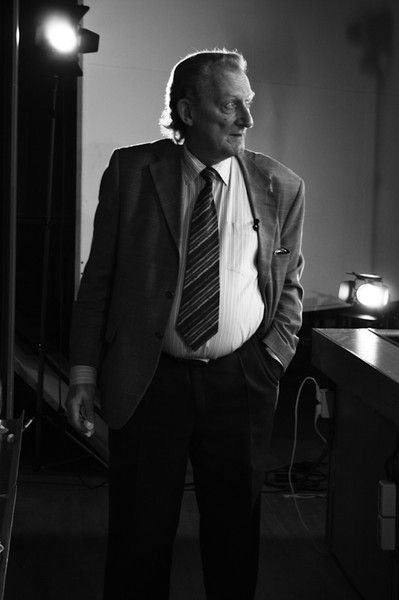 Backlit black and white image of the man standing by the blackboard, chalk in hand, looking to the right.
Image credit.