Attention! Www.booking.com scam with London hotels
"Don't open email attachments in letters from unknown senders, don't click suspicious links. Verify, verify, verify." We all know the phishing warnings, right? And we don't open, and we don't follow, and we verify, and we verify. And then one day cursory checks simply are not enough.
I have just sent quite a lot of money to
booking.com
scammers, and I am fairly certain there is very little probability of getting any of it back.
The stories of others who were attentive and did not fall into the trap can be found on
Tripadvisor forums
. My story unfortunately is quite the opposite.
Booking.com
is my site of choice when looking for hotel stays abroad because it is easy to navigate, clear, and, most important of all, contains reviews of travelers who have previously stayed in the listed properties, so when looking for low-cost accommodations, it is easy to decide which of the inevitable drawbacks of the place you are ready to tolerate and which are deal breakers.
However, there has apparently been a breech in their security system, and booking data for a number of London hotels (reservation numbers, dates of stay, emails, names and phone numbers of the customers) leaked out, allowing for the three-step scam I fell victim to.
This is what regular booking.com emails looks like, without my personal data:
[
Real email in the inbox
]
Real email in the inbox




[An image of four emails in of gmail inbox, two of them from booking.com]
[
Real email when open
]
Real email when open




[Standard booking.com reservation form containing hotel address, phone number and email; reservation details; reservation cost; a map of the area around the hotel and room details]
And this is how this particular scam works.
At first, you receive a pseudo-booking.com email telling you that due to low occupancy at the hotel, it requires you to pay 100% of your stay in advance through bank transfer. Fishy, but not unbelievable, especially with the political situation such as it seem from Russia.
[
Scam email #1 in the inbox
]
Scam email #1 in the inbox




[Three emails in gmail inbox, the scam one "requiring action" virtually identical to the real one from booking.com next to it]
[
Scam email #1 when open
]
Scam email #1 when open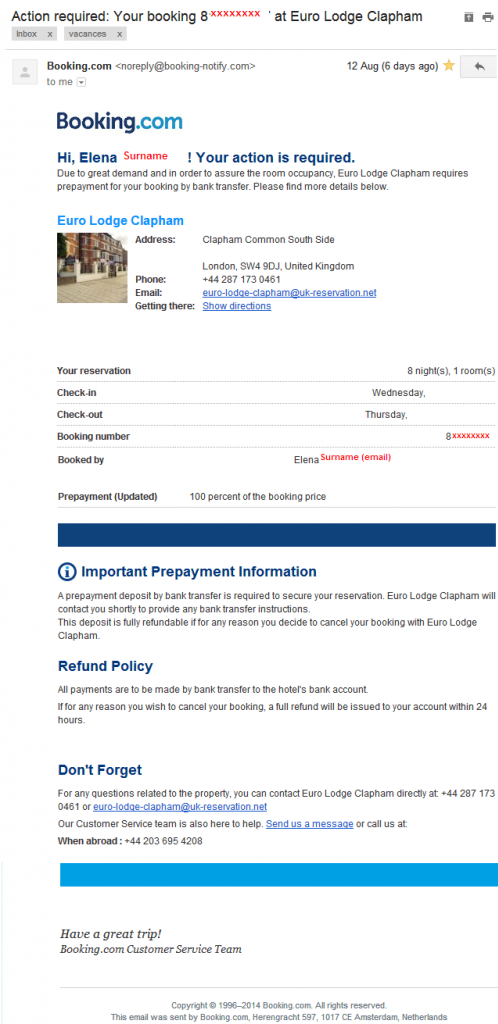 [First scam email, again, looking at a glance identical to the real ones from booking.com]
The emails are very close, and even though, once again, it is fishy that the actual amount you have to supposedly pay through bank transfer is not mentioned, it is still believable.
[
Real email, left; scam email, right
]
Real email, left; scam email, right. This picture is clickable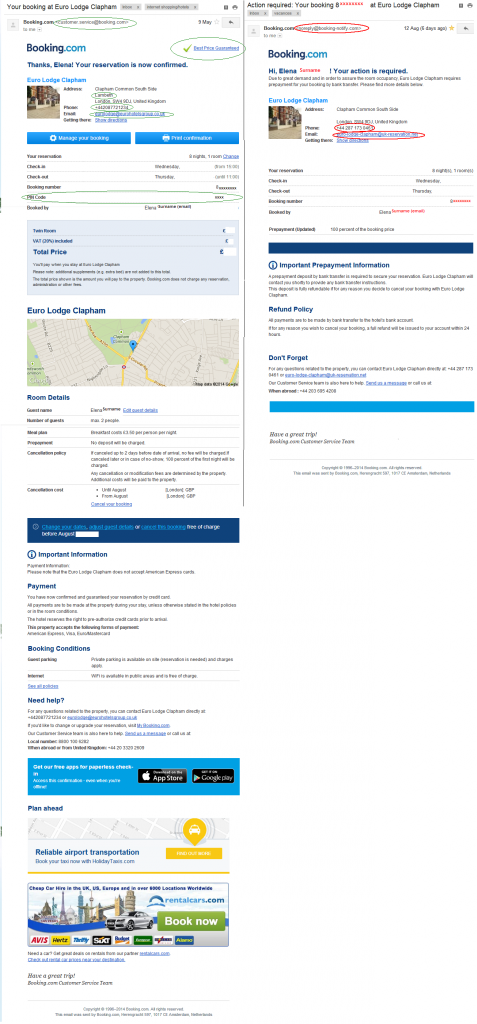 [Comparison of the two emails side by side. The only differences are in the hotel email and phone number, and in the no-reply address the emails come from. The real one is customer.service at booking.com. The scam one is noreply at booking-notify.com]

Upon having prepared you by means of the supposedly booking.com announcement, the scammers proceed to phone call you with the same information (I missed the call, and can only say that it came from a British phone number. I certainly can not say anything else about those).
Further, you receive an email from the "hotel itself" with your reservation number and dates of stay in the subject line which is sent from the false email address of the hotel from the not-booking.com announcement.
[
Scam email #2 in the inbox
]
Scam email #2 in the inbox




[Second scam email in gmail inbox]
[
Scam email #2 when open
]
Scam email#2 when open



[Text of the second spam email:



[

Text

]

Dear Elena XXX,

We have called you, but could not reach you.

Unfortunately, due to the large number of cancellations close to the arrival date and in order to increase our hotel's occupancy, we have decided to request the full payment by bank transfer prior to your arrival.
When paying by bank transfer, your bank will charge you a small fee, which you can deduct from the total price of your reservation.
If for any reason you wish to cancel your reservation, we will immediately refund you the total amount paid.
We very much appreciate you've chosen to stay at our hotel and that's why we will offer you free airport pick up shuttle service.
Please inform us as soon as possible if you can make the payment by bank transfer so as to keep your reservation active.
If you agree to pay by bank transfer, please let us know and we will send you the payment details.
We apologize for any inconvenience this may have caused and we hope to hear from you soon.

Kind regards,
Euro Lodge Clapham
Tel +44 287 173 0461 (United Kingdom)
Fax (+44) 20 35144741 (United Kingdom)]
The wording of this particular email is slightly awkward; however, the awkwardness can, once more, be ignored because of the "exact" booking details.
What follows is a bank transfer, preceded by an exchange of a couple more slightly fishy emails (it's strange they make a typo in the account number. And it is also strange that they don't know at first to give you the full name of the recipient. Come to think of it, it is also strange that the recipient is an individual.) All the strangeness though is one last time pushed back, because the contact is easy and regular, and you intend to stay there anyway, so it does not really matter if you pay upon arrival or 10 days early, right?
Wrong. Do not do what I have just done. If anything at all feels fishy or strange, especially where money is concerned, stop, and check, and re-check, and check again. Better safe than sorry? That is right.
I have a very bad feeling about this money. While it is definitely the fault of booking.com that my data was leaked out, and it is their fault as well for not informing me and other possibly affected customers about this scam as soon as it was discovered, it was I who did not check the data properly, and it was also I who chose to accomplish the money transfer.

There are venues open to me, such as contacting booking.com (which I have just done), and going to the police, or starting legal action, but the road will be difficult, and it will likely lead nowhere. We shall see.
Current Mood:

shit happens