Предисловие.
У маминого отца, Льва, было четыре сестры, Аня, Маня, Таня и Галя, и брат Николай. Он учился в церковном училище, а затем в ремесленом. В числе очень немногих вещей, сохранившихся в семье с того давнего времени есть коричневый блокнот, начатый в 1910 году, когда деду было 9 лет и он учился в "первом классе", и законченный в 1917.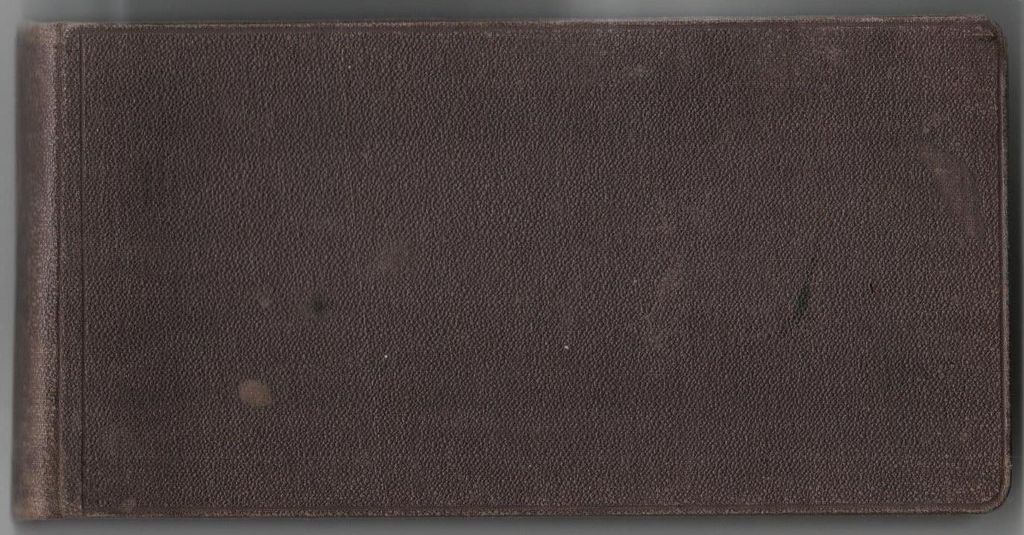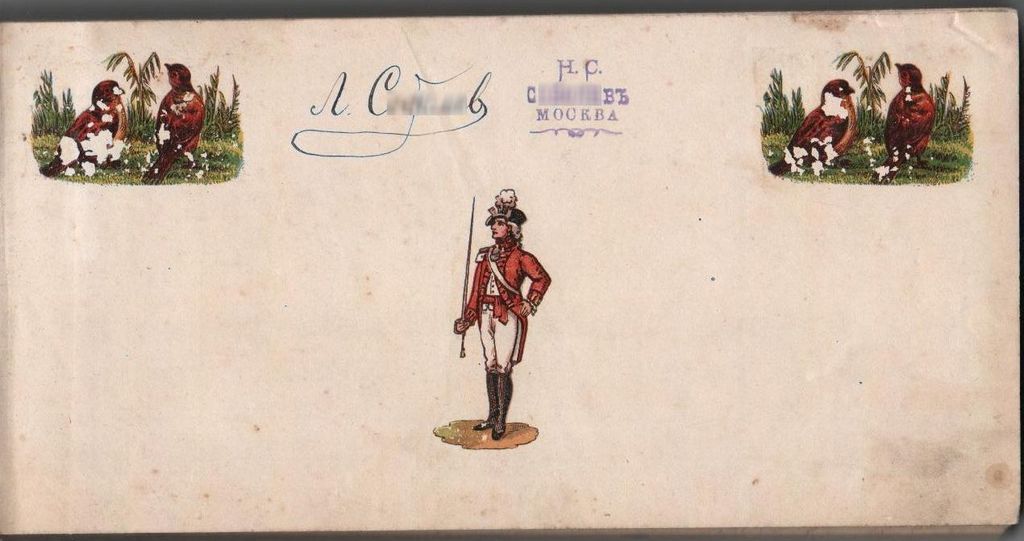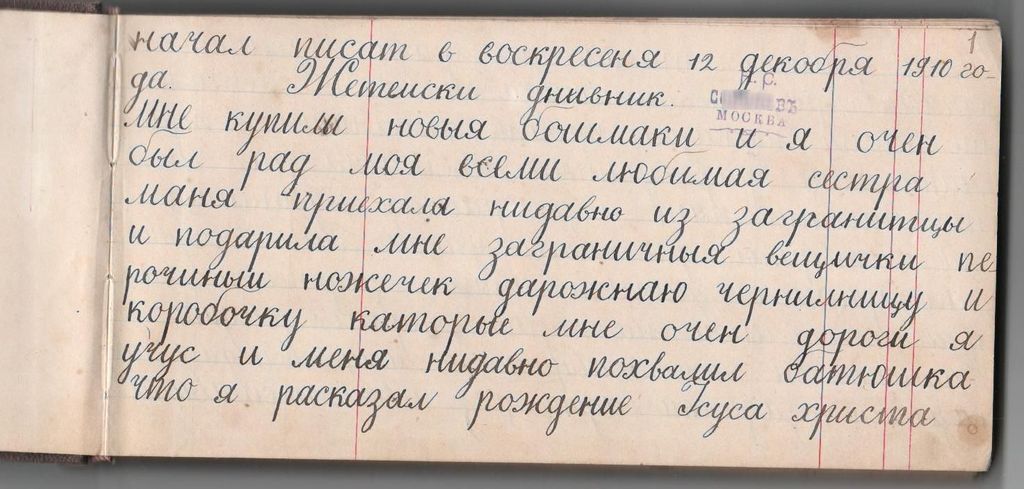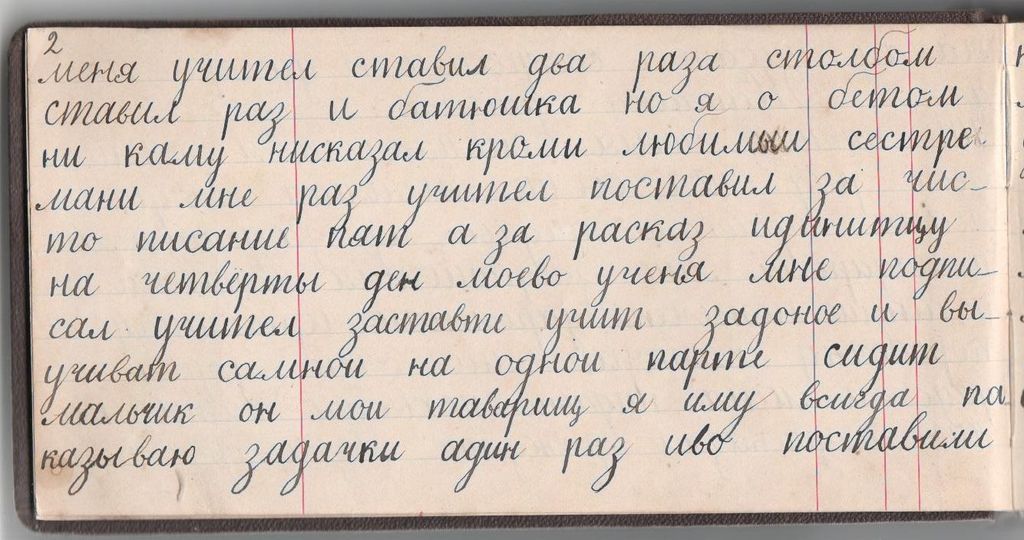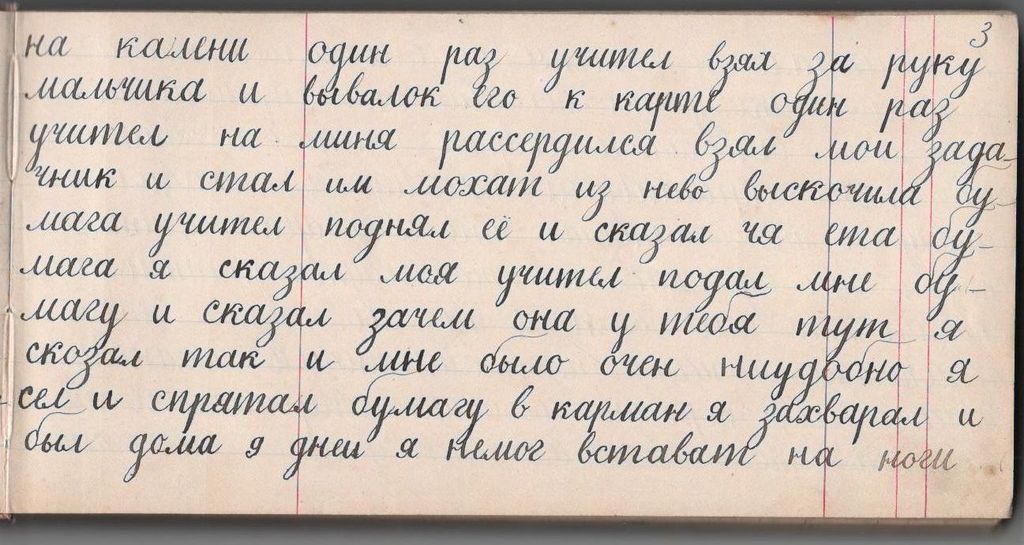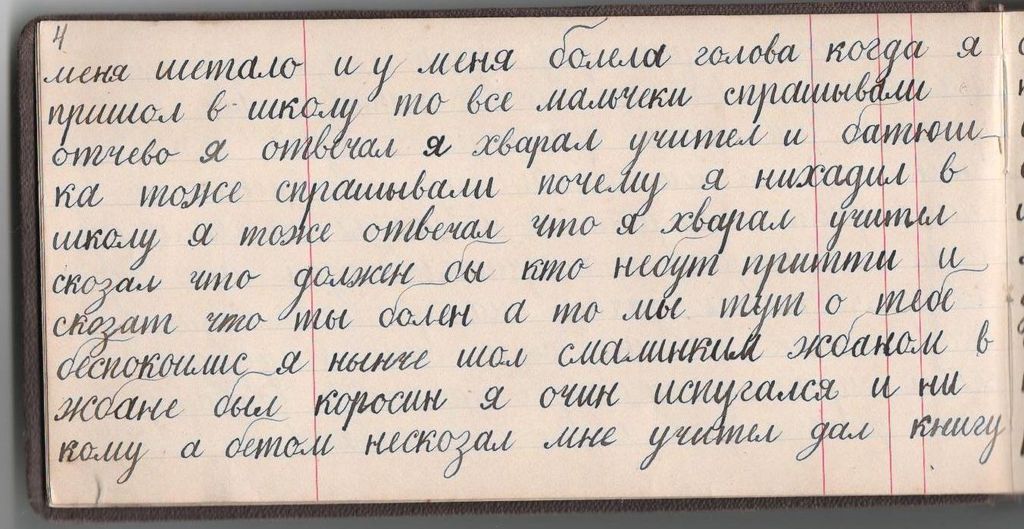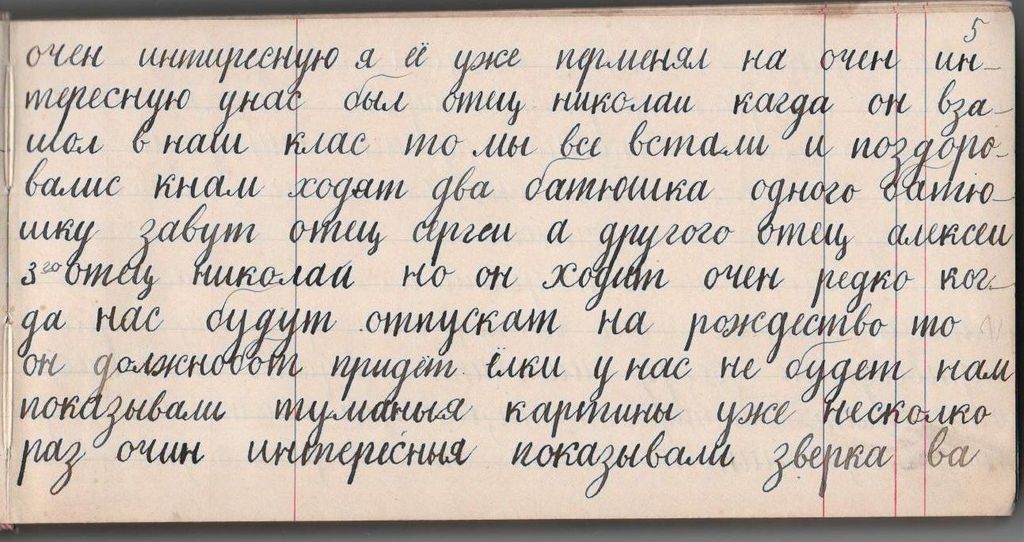 начал писать в воскресеня 12 декобря 1910 го-
да. Жетеиски днивник.
Мне купили новыя бошмаки и я очен
был рад ()* моя всеми любимая сестра
маня приехала нидавно из загранитцы
и подарила мне заграничныя вещички () пе-
рочиныи ножечек дарожнаю чернилницу и
коробочку каторые мне очен дороги () я
учус и меня нидавно похвалил батюшка
что я расказал рождение Iсуса христа ()
меня учител ставил два раза стоблом ()
ставил раз и батюшка но я о бетом
ни каму нисказал кроми любимыи сестре
мани () мне раз учител поставил за чис-
то писание пят а за расказ идинитцу ()
на четверты ден моево ученя мне подпи-
сал учител заставте учит задоное и вы-
учивать () самной на однои парте сидит
мальчик () он мой таварищ () я иму всигда па-
казываю задачки () адин раз иво поставили
на калени () один раз учител взял за руку
мальчика и вывалок его к карте () один раз
учител на миня рассердился взял мои зада-
чник и стал им мохат () из нево выскочила бу-
мага () учител поднял её и сказал чя ета бум-
мага () я сказал моя () учител подал мне бу-
магу и сказал зачем она у тебя тут () я
скозал так и мне было очен ниудобно () я
сел и спрятала бумагу в карман () я захварал и
был дома 9 днеи () я немог встават на ноги
меня шетало и у меня болела голова () когда я
пришол в школу то все мальчеки спрашывали
отчево () я отвечал я хварал () учител и батюш-
ка тоже спрашывали почему я нихадил в
школу () я тоже отвечал что я хварал () учител
скозал что должен бы кто небут притти и
скозат что ты болен а то мы тут о тебе
беспокоилис () я нынче шол смалинким жбаном () в
жбане был коросин () я очин испугалася и ни
кому а бетом нескозал () мне учител дал книгу
очен интиресную () я е уже перменял на очен ин-
тересную () унас был отец николаи () когда он вза-
шол в наш клас то мы все встали и поздоро-
валис () кнам ходят два батюшка () одного батю-
шку завут отец сергеи а другого отец алексеи
3
го
отец николаи () но он ходит очен редко () ког-
да нас будут отпускат на рождество
то он должнобот придёт () ёлки у нас не будет ()
Продолжение следует.
*
Примечание
. Пунктуация на первых страницах, как вы можете убедиться сами, почти отсутствует. Смысловые точки () мои.
Печатка "Н.С. С-въ. Москва" скорее всего принадлежала моему прадеду, которого, как и старшего сына, звали Николаем.
*****
Foreward
. My maternal grandfather Lev had four sisters, Anya (Anna), Manya (Maria), Tanya (Tatiana), Galya (Galina) and a brother, Nikolai. When he was a child, he studied in a church school first, and then in a trade one. One of the few things that survived in our family from before the October revolution is a brown notebook that was his diary from 1910, when he was 9 and had just started studying in "first grade" till 1917.
I will attempt to translate it to the best of my ability, but the amount of mistakes in its first pages is mind boggling, and I am not familiar with the common mistakes English children make, so any suggestions and "corrections" or rather deliberate mistakes are welcome, as well as questions. He speaks of a lot of things I am barely familiar with myself, after all.
The first few pages are practically void of punctuation as well, I have introduced points, (), where appropriate.
started to write sunday 12 decamber year 1910.
Life diary.
Was bot new shoz and i was
very happy () my beloved by all sister
manya came recently from abrod
and gifted me abrod thingies () pennaif
travel ink well and box that
i love alot () i study and father
praised me yestreen that
i told the birth of Jesus christ ()
the techer stood me as a post twice ()
and father once but i told not a one
aboutit but my beloved sister manya ()
the master once gave me a for writin
and e for story () on forth day of my
study the master wrout me make learn
lessons and study () withme at my desk
sits a boy () he is my camarad () i
alwayz show him tasks () once he was
put on his neez () once the ticher took
the boys arm and puled to the map () once
the master was angry at me took my book
and started wavin it () a paper flew out
of it () the master lifted it and said
whoz paper is this () i said mine () the
master gave me the paper and said why do
you have it hear () i sad i dunno and and
i was very akvard () i sat and hid the paper
in my pocket () i was sick and was home
9 days () i kud not getup i swayd
and my hed hurt () when i caym to skool
then all the boyz askd why () i said i
was sik () the teacher and father also
askd why i didnt go to skool () i also said
i was sick () the master said that someone
shuld have com and said you were sick and
we were worrid about you here () i walked
with a smal jug today () korosine was in
the jug () i was very scared and did not
tell anyvun about it () the teacher gave
me a book () it was very intirestin () i
already ekschanged it for a very interesting ()
father nikolai was at school () when he
entered our clas we all raised and said
hello () two fathers come to us () one
father is colled father sergei and another
father aleksei and the 3
d
father
nikolai () but he comes very rarely()
when we are let for christmas he must come ()
we will not celebrate ()
To be continued...