I wanted to write something else, but I am going to squeal all over discovering how call the numeric symbol codes (alt-codes) on a laptop.
What I mean is, you don't actually have to install another language keyboard if you don't type much in that language, you may learn the (ASCII) codes that call up the special letters of that language instead. You can also learn how to call the n- and m- dashes that way as well as many other useful symbols.
The only snag is, to do that, you normally need the numeric keyboard (that thing on the right of a standard keyboard those of us who work with numbers swear by). You press and hold the
Alt
key, type the code and voil
à
.
alt + 0150 gives you the n-dash (–),
alt + 0151, the m-dash (—),
alt + 0232, 0233, the French accents è and é and so on.
The numbers may vary depending on the operation system and country specifics of the PC.
The problem is though, there is no number pad on most laptops. Or it would seem so. There actually is a hidden one that starts working after you switch on the NumLock with the
FN
+
NumLK
key combination.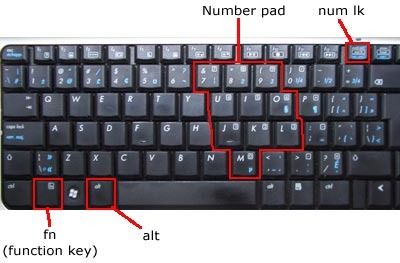 Image source
, detailed instructions and other
useful codes
.
Switching it off and on could be annoying if you have to type long documents, but knowing it is possible to do so is wonderful. (Those numbers are even printed on the keys of my netbook that serve as number pad, which I'd never even noticed.)
*****
Хотела написать о другом, но буду вопить о том, как, оказывается, просто вызывать символы по их ASCII-кодам на ноутбуке.
Я имею в виду коды специальных символов, которыми можно обойтись, вместо того, чтобы устанавливать другие языковые раскладки на чужих компьютерах, и коды символов, которые вообще-то нужны и в русских текстах, вроде минуса (который длиннее стандартного дефиса) и тире (которое длиннее минуса).
Символы, однако, эти вызываются с помощью набора кода на цифровой клавиатуре (расположенной справа на стандартной раскладке, как знают все, кому регулярно приходится работать с цифрами) при нажатой клавише
Alt
. Например,
alt + 0150 даёт минус (–),
alt + 0151, тире (—),
alt + 0232, 0233, французские аксаны è и é и т.д.
Циферки могут плавать в зависимости от операционной системы и настроек страны в компьютере.
Проблема же в том, что на сокращённой клавиатуре многих ноутбуков цифровой клавиатуры нет. Во всяком случае, нет её в явном виде. Она появляется при нажатии комбинации клавш
FN
+
NumLK
. (Картинка выше и сслыки — на (англоязычные) сайты с подробным описанием процедуры и списком полезных кодов.)
Конечно при наборе длинного документа постоянно переключаться туда-сюда будет нудно и муторно, но очень приятно, что коды эти можно-таки вызывать достаточно просто. (На клавиатуре моего нетбука даже прописаны цифры на клавишах, которые играют роль аналога цифровой клавиатуры, чего раньше я и не замечала.)
Раз уж пошёл разговор о символах, знаете ли вы, что набирая текст на другом языке, обязательно печатать на нём всё-всё, даже те буквы, которые (в русском), (например, в формулах), выглядят так же (как в английском), вроде А, Х, Р?
если у получателя текста не установлены кириллические шрифты, вместо "правильного" документа, видного вам, он получит абракадабру.
Current Mood:

наконец-то, наконец-то

Current Music:

шум компьютерного вентилятора