Как все уже наверное слышали, в прошлом году в московском метро внезапно появился бесплатный вай-фай.
Это, конечно, приятно и даже изредка удобно, но с точки зрения "постоянного пользователя", живущего в Москве же, а не проезжего — лучше бы они те же деньги потратили на улучшение вентиляции или ещё на что-нибудь действительно полезное, а не на выпендрёж и саморекламу через эту
примочку
. Нафиг естественным монополистам самореклама в принципе?
Я старательно избегаю в метро часа пик; не в час пик на андроидном планшете всё работает удовлетворительно (за исключением нечастых, но регулярных случаев, когда сети нет вовсе), а большего от него не нужно.
Естественно, бесплатность чего бы то ни было обычно условная. Бесплатность вай-фая обеспечивалась медленно но верно возрастающим количеством и назойливостью рекламы.
И вот на днях провайдер решил предложить за деньги (100 рублей [2 доллара] в месяц) отключать рекламу, оставив сам вайфай условно-бесплатным.
Выглядит предложение так: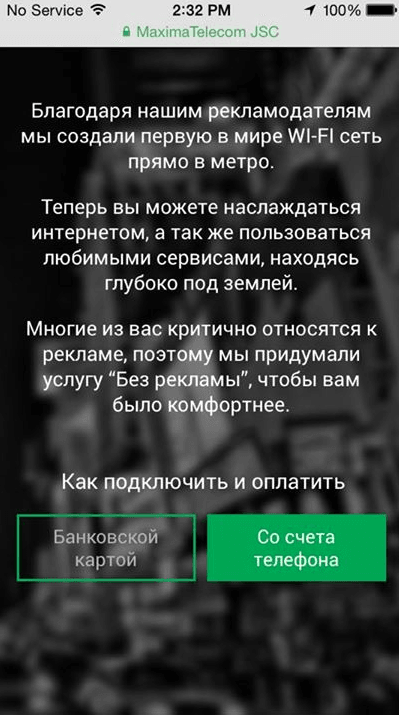 Молодцы, на этом примере можно учиться безобманному отъему денег. Два абзаца самохвальства про то, что в метро есть интернет, и последний, ключевой, — который можно уже пропустить, устав от чтения "белиберды", написанный тем же шрифтом, говорит о, собственно, услуге.
А если невнимательно? А если невнимательно — вайфай стал платным, несите ваши денежки.
Так вот: НЕ СТАЛ, НЕ СТАЛ.
Распространение информации приветствуется.
Большое спасибо
metroelfу за своевременное предупреждение о появлении этой так называемой услуги.
*****
As you may or may not have heard, since last year, Moscow metro is offering free Wi-Fi internet connection, not on the stations but inside its trains.
It is a good thing to have that comes in useful every once in a while, yet as a "constant client" that lives in Moscow and is not a visitor in the city, I would have rather seen all this money spent on bettering the ventilation system or something else
vitally important
, not just nice that they can brag about as being very modern. Natural monopolists have no need to brag, we have no choice in using their services.
I do my best to avoid rush hours; outside the rush hour, the connection quality on my Android tablet is satisfactory (with the exception of the infrequent yet regular occasions when there is no connection at all), and there is nothing more to ask for.
Naturally, outside mousetraps, there are few truly free things out there. The Moscow metro Wi Fi is free because of the steadily increasing amount and intrusiveness of adds they force on you.
A couple of days ago, the provider started offering to switch off the adds for a certain amount of money (about $2 a month), leaving the Wi Fi itself free for those who do not wish to pay.
The screenshot of the offer is given above, and it's a study in fooling people without saying a single untrue word. In the first two paragraphs, the company pats itself on the back for offering something so new and useful. The offer to switch the adds off is in the third one, written in all the same font and all the same very boring style.
[
Translation
]
Thanks to our advertisers, we have created the world's first Wi Fi network inside the metro.


From now on, you can enjoy internet connection as well as your favourite services while still deep underground.

Many of you look down on advertisments, therefore, for your comfort, we have created the "No adds" service.




How to switch on and pay


By bank card | From mobile phone
The result? Many people may get tired of reading "boring nonsense" and skip to the last line stating "give us money". The overall impression? Sorry, but the Wi Fi is no longer free.
YES, IT STILL IS!
Thank you
metroelf for your advance notice of this so-called service!
Current Mood:

angry