Давайте пошелестим страничками.
1. Когда Гюго описывает жизнь г-на Мириэля, он говорит, что тот много путешествовал по своей епархии, в местечки недалеко от Диня - пешком, те, что подалее на равнине - на двуколке, а по горам - на муле, или, когда совсем не было денег - на осле.
В оригинале эта фраза выглядит так: " Il allait au pied quand c'était dans le voisinage, en carriole dans la plaine, en cacolet dans la montagne. "
А вот что такое на самом деле "cacolet":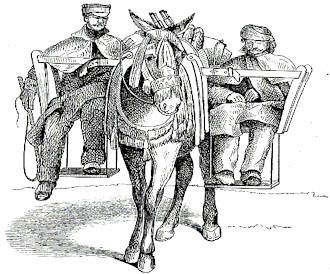 На муле, да, но не верхом. В интернетах пишут, что на таком странном и ранее мной ни в книгах, ни в фильмах не встреченном сооружении обычно возили раненых (вот английская
статья
о средствах транспортировки раненых во время Крымской войны).
2. Хороший способ познакомиться с интересующим городом - читать путеводитель или, как это делаю я сейчас с Лондоном, книгу о происхождении названий улиц, одновремнно находя их на карте, тем более что современные электронные карты быстренько сами находят нужную улицу. Если же к этой карте прилагаются описания достопримечательностей, то ещё того лучше - читаешь об одном и том же сразу с двух точек зрения. Я пользуюсь оффлайновыми картами мобильного приложения CityMaps2Go - к ним прилагаются Викистатьи. Именно там я впервые нашла упоминание о бывшем должнике Стивене Фостере, ставшем впоследствии мэром Лондона.
3. Несколько удачных и неудачных переводов - штук - в книгах.
*Новое слово Дадли в "Философском камне" - "Хаччу!", в оригинале - "Won't!" (Не буду!)
*Когда Ватсон встречает Стамфорда в начале "Этюда в багровых тонах", тот ему говорит "Что вы с собой наделали, Ватсон? Вы высохли как щепка и пожелтели, как лимон". В оригинале - "Whatever have you done with yourself, Watson? You have dried like a lath and browned like a nut." (Что вы с собой наделали, Ватсон? Вы высохли как доска и покоричневели, как орех.)
*Но при этом там же, когда приходит посыльный, которого Холмс определяет как отставного военного, и когда Ватсон украткой спрашивает того о профессии, ответ в переводе звучит странно: "Служу посыльным, сэр. Форму отдал заштопать." Сколько ни читала, никак не могла понять, то ли о его старой военной форме идёт речь, то ли о чём ещё. А на самом деле "Uniform away in repairs", то есть форма - посыльного - отдана (швее) на починку, поэтому он в цивильной одежде. Про то, что посыльные носили определённую форму, допустим, я не знала, но "заштопать" - бу как не подходит стилистически.
*****
Let us do bookwormy things.
1. I am reading
Les Misérables
now, and the bit about Msr Myriel's travels was an eye-opener. I do not have an English translation to quote from, but Hugo says that the bishop traveled often, and visited places close to Digne on foot, those on the plains in a two-wheeled cart, and those in the mountains in a cacolet, or on donkeyback if he had no money. Now, we don't even have a word for "cacolet" (that's it in the picture above) in Russian. I have never even known such a mule-carried, er, means of transport existed until yesterday, nor have I seen it in any movies. Apparently, they are mostly known for being a means of transporting wounded during wars (here is an
article
about means of such transport during the Crimean war).
2. A good way to learn about a city you like it to take up a guide, or a book about the origins of its street names and find those streets on a map as you read. It's relatively easy now that find-it-for-you electronic maps are easily available. It gets even better if such maps come with added articles on important landmarks, so you can read about the places from two points of view at once. I am doing this for London now, and the offline app CityMaps2Go is a good one with Wiki articles linked here and there. This was where I read the first mention of Steven Foster, the notorious debt prisoner who later became London Lord-mayor.
In point 3 above I am speaking about good and bad Russian translations of certain passages in English books, and doing a back translation of such translations would be weird.