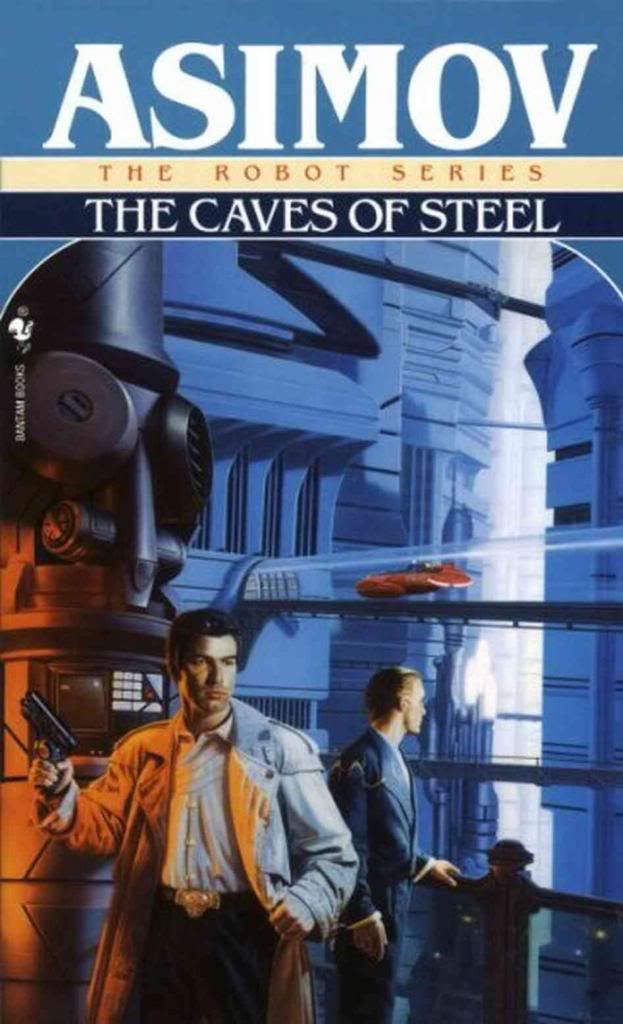 The descriptions of the very possible future society in this one are deliciously creepy and believable. And the slow change of attitude toward the robot through the story is exquisitely done. Such a pleasure to read another book that makes you want to go through itself at a speed of light, and rarely happens these days.
This is the first book where R. Daneel Olivaw makes an appearance. I have read it last, and I am very much impressed by the attention to earlier detail in later works, and also by how very
much
this one explains in what it all eventually came to. *starry eyed*
*****
Замечательные описания до жути правдоподобного будущего общества. А также медленное но верное изменение отношения к роботу. Так приятно читать книгу, которую не хочется откладывать в сторону, наоборот, узнать что же там происходит сразу и повсюду, и так редко бывает в последнее время.
Так получилось, что эту, первую, книгу в которой появляется Р. Данил Оливо я прочитала последней, - и очень впечатлилась вниманием к деталям первых книг в последующих, а также тем, как
многое
объясняет эта первая в том, к чему в конце концов привело развитие событий. Ням.
24.05.
|
25.05.
26.05.
Droves of birthday messages.
Slept "in" till 10 a.m.
Translation till 12.30. Nasty business.
Especially this long past the first dead line which is on the 15th of the month.
Another soup at the same place. Good but not spectacular.
Fair on Broadway. Used books. Delicious pancake of sweet
(corn?)
flour with mozarella.
More bread rolls at the same place as yesterday.
Which was not such a good idea less than two hours before dinner.
Meeting
a fellow Rickmaniac
Katie and
her baby
Roman.
Dinner at an Italian place.
The infamous hanging crane site really close to their apartment.
The crane that broke off and was swinging during Sandy last year.
Crazy bacteria plushies at a toy store in Times Square.
A whole lot of them. Pinicillin, different diseases, also various types of blood cells. Got a cavity one for my dentist.
Spray paint painting.
Street artists on Broadway. The way one's created is such a fast process and hard to believe it is done in front of your very eyes.
Meeting Robbi.
Another fellow Rickmaniac. Oh, hi, I am suddenly in New York for the weekend, want to meet for a bit? Yeah, sure, why not.
Stage door mobs look so funny when you are not part of them. Was ours really louder than that, after those
Seminar
performances?
Why only me to switch on the AC in the room?
27.05.
Ridiculous amount of time to find a place for breakfast.
Which is often the problem, but gets better with time, practice, and hunger. :)
Place was nice (72 and Broadway, right past Trader Joe's).
My friends we taking me with them to Boston that day, but the time was not quite set. And the best way to while away however much free time without wandering to far is definitely visiting a bookstore.
Barnes and Noble's. Should I or should I not
read
-
The Girl with a Pearl Earring
? A lot of geeky Hobbit stuff. Nice maps of Boston.
I am a map geek, I could spend hours choosing a proper map of some city I intend to visit and going through everything on offer in several bookstores. Good maps are always a bit expensive but a good expenditure especially if you plan to revisit the place. Which is why a good map is a laminated map, paper one tear up on the second or third day. Which is also why a good map is one which easily folds in all directions: it's quite exhausting to walk around a city with a "bedsheet" in your hands. I quite like MapEasy's maps. Especially their picture/history ones (the three in the top row on the site) they are perfect when you explore the city on your own and are too lazy too look up too many places to go. I am too lazy at first.
Boston.
Co-ed at a hostel is also tolerable
(first time staying in one)
but only if can't be avoided,
better an more-person purely female dorm than a "luxury" less-person co-ed one. Okay, noted.
*****
24.05.
|
25.05.
26.05.
Куча поздравлений с днём рождения.
"Проспала" до 10 утра.
Переводила до половины первого. Неприятное занятие.
Особенно когда так задерживаешься после должного срока в середине месяца.
Ещё один суп в том же месте. Вкусный, но и только.
Ярмарка выходного дня на Бродвее. Букинисты. Очень вкусные сладкие
(кукурузные?)
оладьи с моцареллой внутри.
Ещё булочки там же, где вчера.
Не очень хорошая идея меньше чем за два часа до обеда.
Встреча с Кэти,
тоже рикманьячкой
и её маленьким сыном Романом.
Знаменитый сломанный строительный кран оказался действительно в двух шагах от их квартиры.
Тот самый, у которого упала и болталась верхушка в прошлом году во время Сэнди.
Сумасшедшие мягкие игрушки в виде бактерий в магазинчике на Таймс Сквер.
Целый набор. Пенициллин, различные болезни, и также разные виды клеток крови. Не могла не купить кариозную бактерию своему стоматологу.
Встреча с Робби.
Ещё одной рикманьячкой. Привет, я на этих выходных случайно в Нью-Йорке, хочешь встретиться поболтать? Да, конечно.
Толпы фанатов поджидающих выходящих актёров на Бродвее очень забавно смотрятся со стороны. Неужели наша и правда была громче, после "Семинара"?
Так почему же только я включаю в номере кондиционер?
27.05.
Опять ушла куча времени на то, чтобы выбрать, где бы позавтракать.
Слишком уж часто у меня возникает эта проблема, правда со временем становится лучше, с практикой, ... и с голодом. :)
Хорошее местечко на 72 улице и Бродвее (возле магазина "Trader Joe's").
Должна была ехать в тот день в Бостон с друзьями, но время отъезда мы чётко не оговорили. Что можно сделать с неопределённым количеством времени, чтобы далеко не блудить? Конечно же пойти в книжный.
Книжный "Barnes and Noble's".
Прочитать
или не прочитать "Девушку с жемчужной серёжкой"? Куча прикольных хоббитских вещичек (вроде карты Торина и его же ключа от Горы). И наконец-то хорошие карты Бостона.
Я люблю карты, но выбор их это достаточно мучительное предприятие, часто оборачивающееся походами в несколько книжных и перебором всех без исключения карт на полках. Хорошая карта - тоже удовольствие не из дешёвых, но очень правильный вклад капитала, особенно если хочешь в это место вернуться. Поэтому хорошая карта - ламинированная карта, бумажные рвутся на второй-третий день. Хорошая карта также карта, которую можно легко сложить на любом её сегменте - ведь очень утомительно ходить по городу с "простынёй". Мне понравились карты MapEasy. Особенно их карты в картинках/псевдоисторические (первые три в верхнем ряду на сайте). Они очень удобны для ленивых туристов, вроде меня, которым не охота производить целое расследование, чтобы придумать, куда бы сходить. Во всяком случае в первые (и не обязательно) первые приезды в город.
Бостон.
Смешанную спальню в хостеле пережить легко
(первый опыт с такой)
, но лучше не переживать,
лучше больше народу в "обычной" чисто дамской, чем меньше, в "лучшей" да смешанной. Будем знать на будущее.
Current Mood:

working