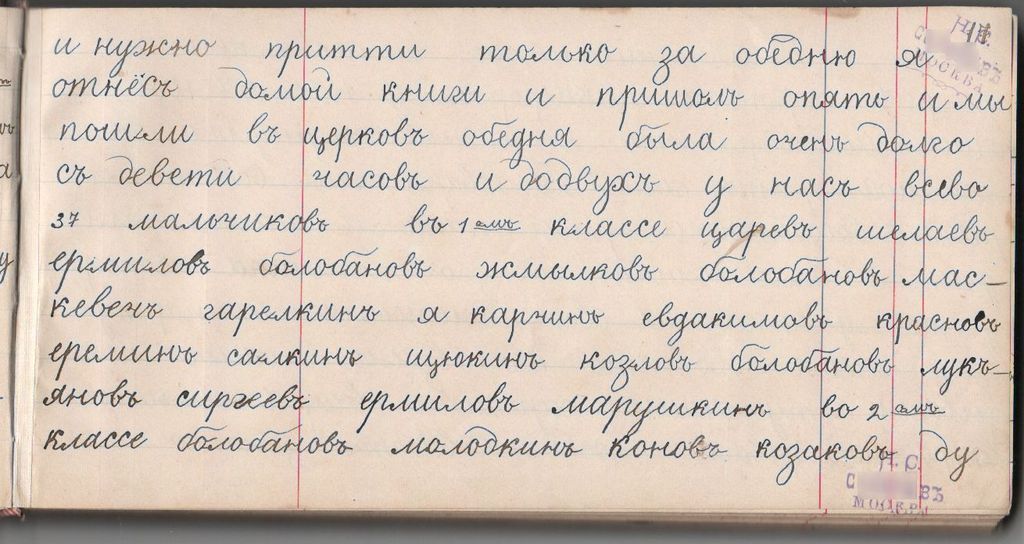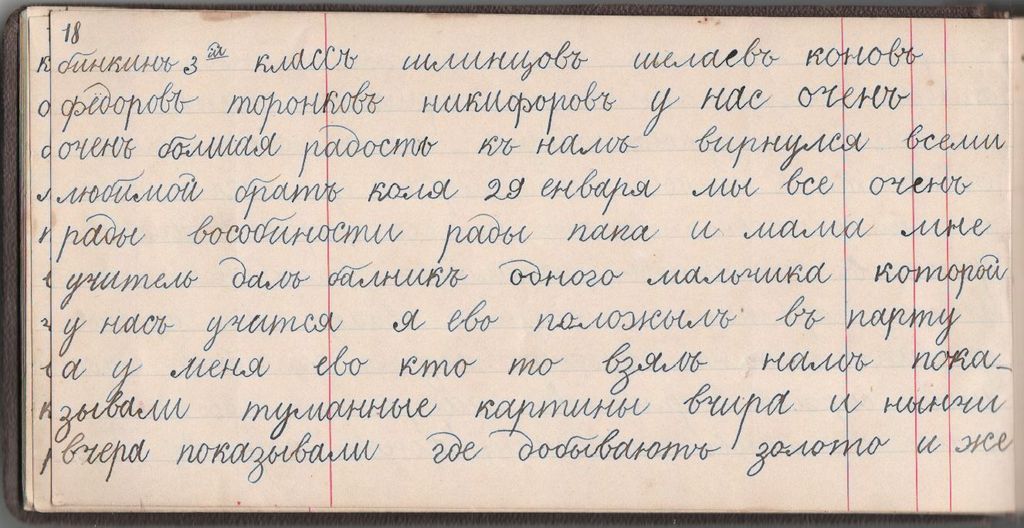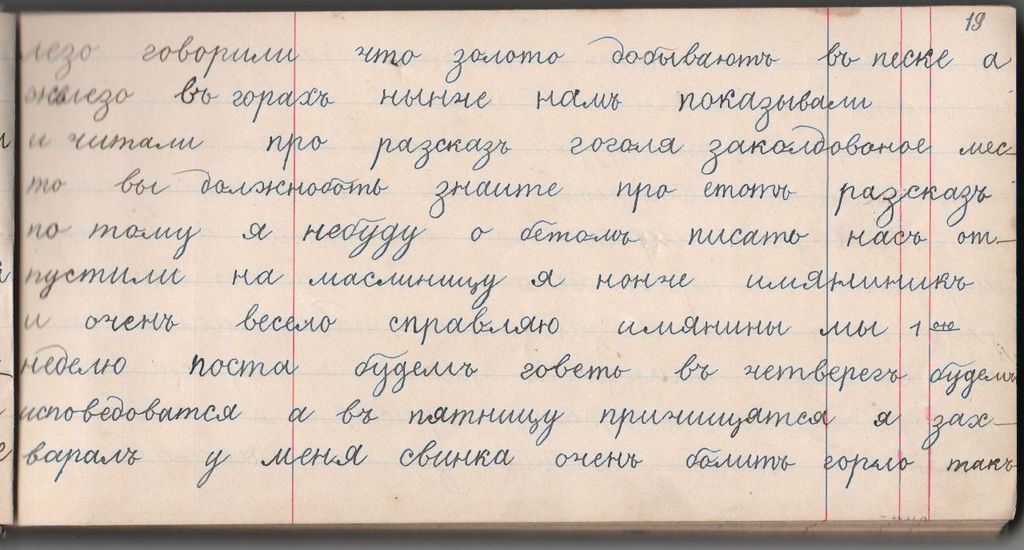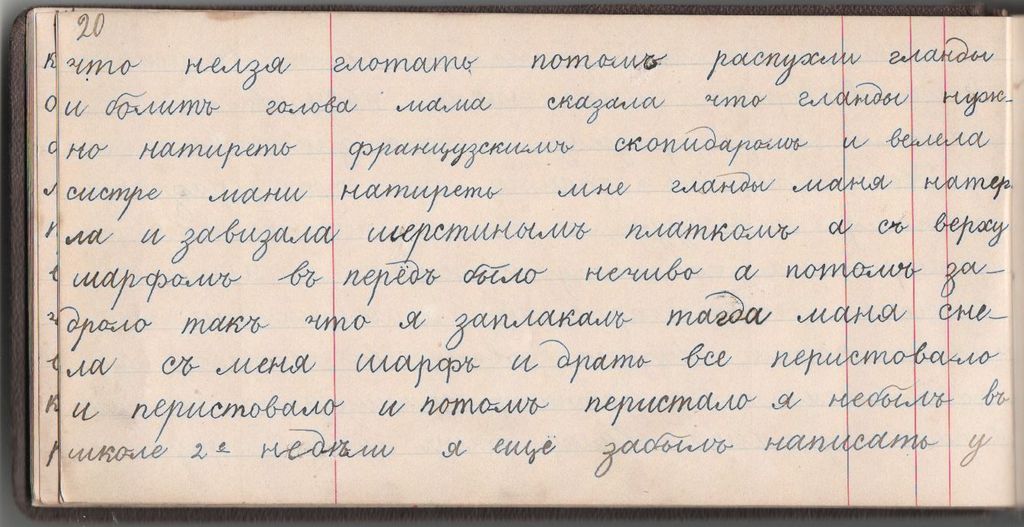 я болелъ и неходилъ въ школу 3 дня () папа
принёсъ мне катёночка оченъ хорошанкого () я наз-
валъ ево мицаномъ () я учус въ I
омъ
классе потому
что я былъ боленъ () я нынче пошолъ вшколу какъ
всигда съ книгами () когда я пришолъ то тётенка
котороя какъ я писалъ заведуетъ чаемъ и саха-
ромъ сказала что нынче пристолной праздникъ
и нужно притти только за обедню () я
отнёсъ домой книги и пришолъ опять и мы
пошли въ церковъ () обедня была оченъ долго
съ девети часовъ и до двухъ () у насъ всево
37 мальчиковъ () въ 1
омъ
классе () царевъ шелаевъ
ермиловъ болобановъ жмылковъ болобановъ мас-
кевечъ гарелкинъ я карчинъ евдакимовъ красновъ
ереминъ салкинъ щюкинъ козловъ болобановъ лукъ-
яновъ сиргеевъ ермиловъ марушкинъ () во 2
омъ
классе болобановъ молодкинъ коновъ козаковъ ду-
бинкинъ () 3
iй
классъ шлинцовъ шелаевъ коновъ
федоровъ торонковъ никифоровъ () у нас оченъ
оченъ болшая радость () к намъ вирнулся всеми
любимой братъ коля 29 енваря () мы все оченъ
рады () вособиности рады папа и мама () мне
учитель далъ балникъ одного мальчика которой
у насъ учится () я ево положылъ въ парту ()
а у меня ево кто то взялъ () намъ пока-
зывали туманные картины вчира и нынчи ()
вчера показывали где добываютъ золото и же-
лезо () говорили что золото добываютъ въ песке а
железо въ горахъ () нынче намъ показывали
и читали про разсказъ гоголя заколдованое мес-
то () вы должноботь знаите про етотъ разсказъ
по тому я небуду о бетомъ писать () насъ от-
пустили на маслиницу () я нонче имяниникъ
и оченъ весело справляю имянины () мы 1
ою
неделю поста будемъ говеть () в четвергъ будемъ
исповедоватся а въ пятницу причищятся () я зах-
варал () у меня свинка () оченъ болитъ горло такъ
что нелзя глотать () потомъ распухли гланды
и болитъ голова () мама сказала что гланды нуж-
но натиреть французскимъ скопидаромъ и велела
систре мани натиреть мне гланды () маня натер-
ла и завизала шерстинымъ платкомъ а съ верху
шарфомъ () в перёдъ было нечиво а потомъ за-
дроло такъ что я заплакалъ () тагда маня сне-
ла съ меня шарфъ и драть все перистовало
и перистовало и потомъ перистало () я небылъ въ
школе 2
е
недѣли ()
-----
По рассказам мамы, дедушка в детстве был болезненным, и поэтому его отдали в школу позже обычного. (Он и сам написал уже об этой задержке и о трёх своих болезнях за первый год учёбы). Но задержали его не только из-за здоровья. До того, как он пошёл в школу, семья жила в Брест-Литовске, потом переезжала в Москву, и конечно сумятица смены места жительства тоже повлияла на школьные дела.
Кроме того, мама рассказывала, что семья деда была старообрядческая, что и подтверждает одна из записей из сегодняшнего отрывка, в которой ему говорят что-де мол сегодня "престольный праздник", иди в церковь.
"У старообрядцев престольными праздниками считались важнейшие даты христианского календаря или дни памяти святых, в которые освящались молельные дома." (Вики)
Кстати, мы проходили в школе "Вечера на хуторе близ Диканьки" и "Заколдованное место" Гоголя, а вы?
*****
I was sick and didnot go to school for 3 days ()
dada brought me a kitten very pretty () I called
him mizan () i study in I
st
grade because i
was sick () today i went toschool as alwais
with books () when i caim then the auntie who as
i said manages tea and sugar told that today is
saints day and we need only come to muss () i
took the books home and came again and we went
to church () the mass was very long from
nine oclock to two () we have 37 boys in all ()
in 1
st
grade zarev shelaev ermilov bolobanov
zhmylkov bolobanov maskevich garelkin me
karchin evdakimov krasnov eremin salkin shchukin
kozlov bolobanov lukianov sirgeev ermilov
marushkin () in 2
nd
grade
bolobanov molodkin konov kozakov dubinkin
3
rd
grade shlintsov shelaev konov fedorov
toronkov nikiforov () we are very very happy ()
our beloved by all brother kolya came back 29
january () we are all very happy () especially
happy are mom and dad () the master gave me
the grade book of one boy who learns with us ()
i put it in the desk and someone took it from
me () they showed us foggy pictures yesterday
and today () yesterday they showed how they
mine gold and iron () they said gold is mined
in sand and iron in mountains () today they showed
and read us gogols story a bewitched place () you
must know this story so i willnot write aboutit ()
we were let out for maslenitsa
[Carnival before Lent]
()
my name day i celebrate my name day very gayly ()
the 1
st
week of fast we will go to
our duty
[fast]
() on thursday we will go
to confession and on friday we will make
communion () i am sick () i have mmps () my
throat hurts alot that i cannot swallow ()
then my glands swelled and head hurts () mom
said the glands should be rubbed with french
torpentin and told sister manya to rub my glands ()
manya rubbed and tied with a wul kerchief and
above that with a scarf () atfirst it was
alright then started scratch so that i cried ()
then manya took the scarf off me and it stopped
and stopped scratchin and finally stopped ()
i was not at school for 2
o
weeks ()
-----
According to my mother, my grandfather was was quite sickly, and his family held him back from entering school at the usual age. And here he mentions it himself, as well as having been sick at least three times in the first half a year of schooling. Of course, he was not held back only because he was sick. The family used to live in Brest-Litovsk, in today's Belarus, and moved to Moscow about that time, so the chaos of moving may have also influenced that decision.
The fact that he was sent back home from school and told it was a saint's day and they were only going to church is significant. My father's family belong to the "
Old Believers
" (staroobryadsy) way of worship, and the language he uses ("prestolny" holiday, saint's day) confirms this. For the "new believers" such a holiday was mostly related to the saint or saints of their individual parishes, while for the old believers, all major saint's days were called thus. Which is why it was not school day, but a church day for the children.
We still studied Gogol's
Village Evenings on a Farm near Dikanka
, the collection of spooky stories part of which is
A Bewitched Place
at school. I highly recommend
this book
, and would call it scary, funny and striking.