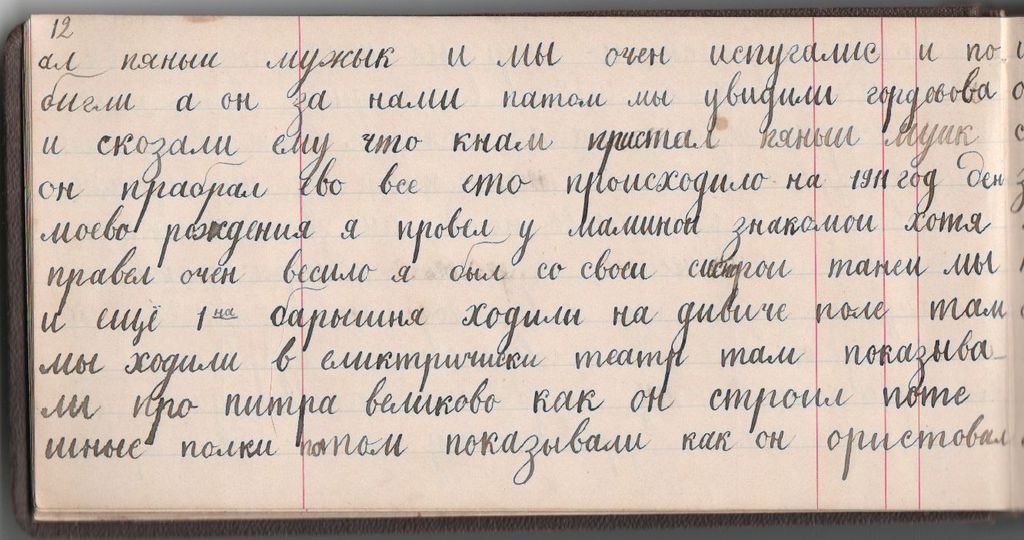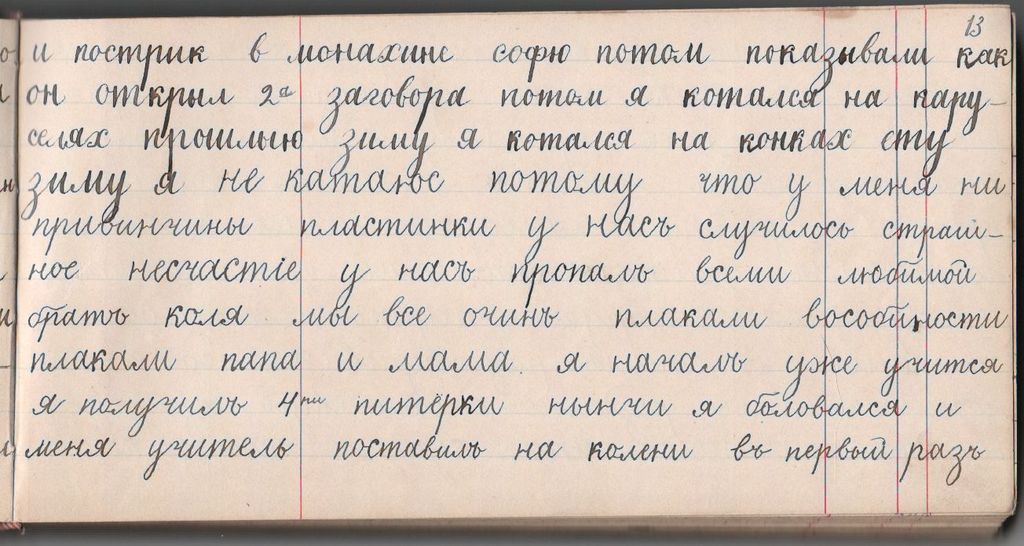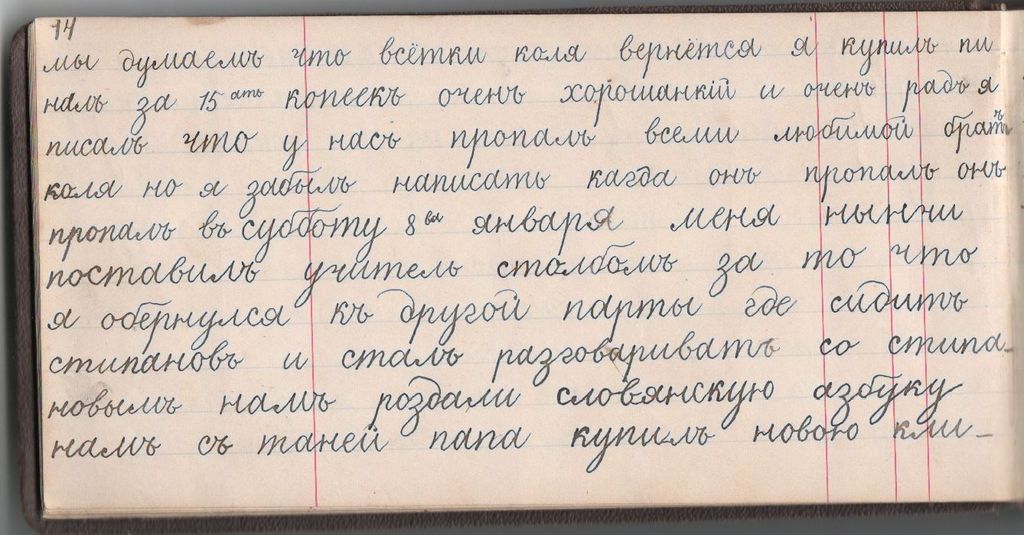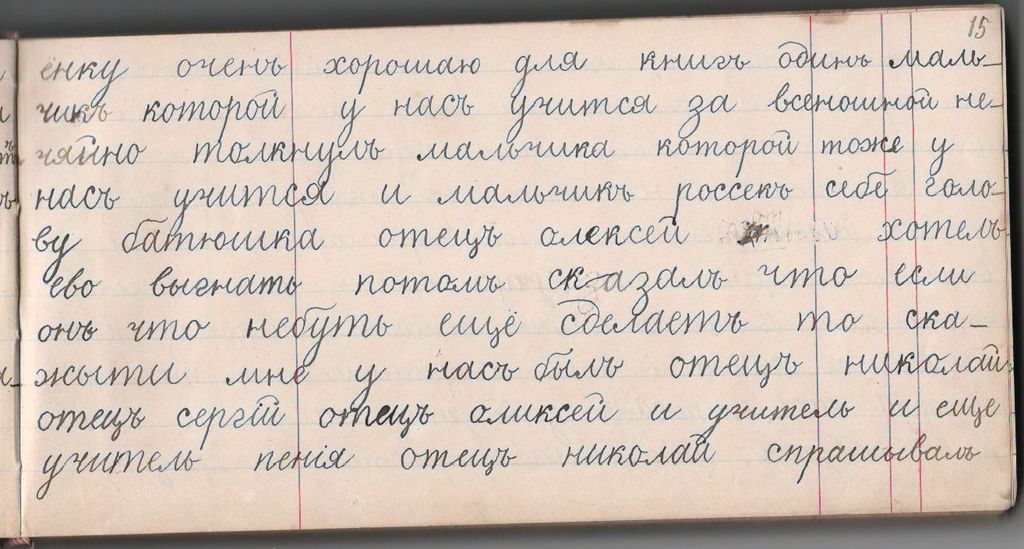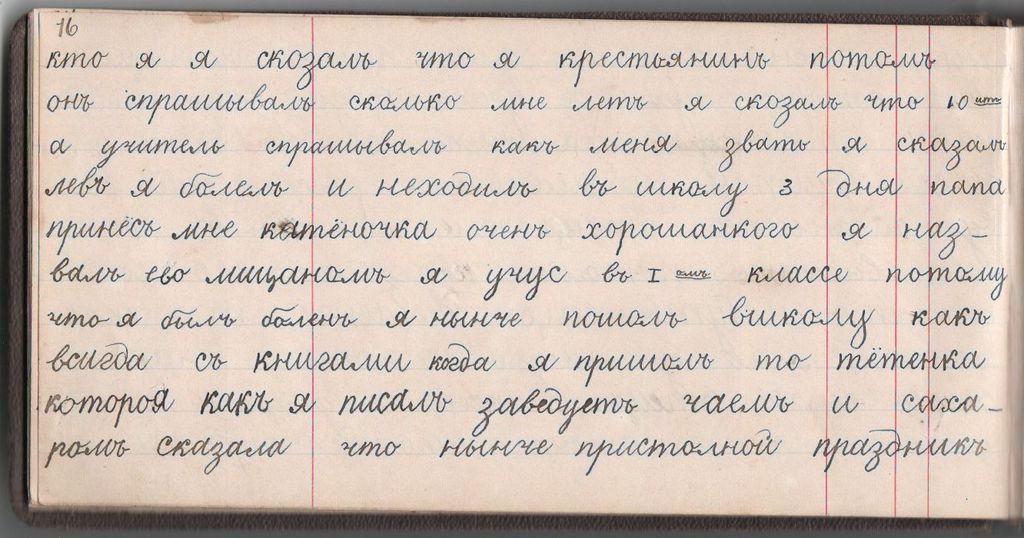 Обратите внимание: в первых записях не было не только пунктуации, но и ни одной яти, твёрдого знака или и краткого, только одно I - в слове Iисус, и очень мало мягких знаков — дедушка пишет то малчик, то мальчик. Понятно, что происходило это от малограмотности, но любопытно, что пропущены в большинстве своём те самые буквы, которые были изъяты из употребления несколькими годами позже, при реформе орфографии.

"Правильные" буквы теперь постепенно начинают появляться в дневнике, но в начале дедушка с трудом отличает твёрдый знак от мягкого.
новои год мы всречали
очен весило () в 12
ат
чисов ночи мы зажгли ёлку и у
нас было очен весило () я и мои сёстры анюта и та-
ня хадили годат под новои год () мы спрашывали и-
мена () один молодои человек слихка ударил по голо-
ве бубенцами нюту () когда мы пошли дамои и вы-
шли на малаю доргомиловку то к нам прист-
ал пяныи мужык и мы очен испугалис и по-
бигли а он за нами () патом мы увидили гордовова
и скозали ему что кнам пристал пяныи муик ()
он прабрал ево () все ето происходило на 1911 год () ден
моево рождения я провел у маминои знакомои () хотя
правел очен весило я был со своеи систрои танеи () мы
и ещё 1
а
барышня ходили на дивиче поле () там
мы ходили в еликтричиски театр () там показыва-
ли про питра великово как он строил поте-
шные полки потом показывали как он ористовал
и пострик в монахине софю потом показывали как
он открыл 2
а
заговора потом я котался на кару-
селях () прошлыю зиму я котался на конках () ету
зиму я не катаюс потому что у меня ни
привинчины пластинки () у насъ случилось страш-
ное несчастiе у нас пропалъ всеми любимой
братъ коля () мы все очинъ плакали вособиности
плакали папа и мама () я началъ уже учится ()
я получилъ 4
ри
питёрки () нынчи я боловался и
меня учитель поставилъ на колени въ первый разъ ()
мы думаемъ что всётки коля вернётся () я купил пи-
налъ за 15
ать
копеекъ оченъ хорошанкiй и оченъ радъ () я
писалъ что у насъ пропалъ всеми любимой братъ
коля но я забылъ написать кагда онъ пропалъ () онъ
пропалъ въ субботу 8
ва
января () меня нынчи
поставилъ учитель столбомъ за то что
я обернулся къ другой парты где сидитъ
стипановъ и сталъ разговаривать со стипа-
новымъ () намъ роздали словянскую азбуку ()
намъ съ таней папа купилъ новою кли-
ёнку оченъ хорошаю для книгъ () одинъ маль-
чикъ которой у насъ учится за всеношной не-
чяйно толкнулъ мальчика которой тоже у
насъ учится и мальчикъ россекъ себе голо-
ву () батюшка отецъ олексей хотелъ
ево выгнать потом сказалъ что если
онъ что небуть ещё сделаетъ то ска-
жыти мне () у насъ былъ отецъ николай
отецъ сергiй отецъ оликсей и учитель и ещё
учитель пенiя () отецъ николай спрашывалъ
кто я () я скозалъ что я крестьянинъ () потомъ
онъ спрашывалъ сколько мне летъ я скозалъ что 10
ить
()
а учитель спрашывалъ какъ меня звать я сказалъ
левъ ()
*****
Small children often write with a lot of mistakes, and my grandfather was no exception, but the mistakes he made are curious. You may or may not have heard about the
reform of Russian orthography
of 1918. It was one of many that aimed at closing the gap between the written word and the spoken one, but it is infamous in that the number of letters in the alphabet was diminished (the ѣ, ѳ and і letters were replaced by the very close, the same even, sounding e, f and Russian i, for example).
What is curious, is that on the first few pages, my grandfather does not use those letters except on a single occasion. He obviously does not know any better, and is learning, as can be seen in the diary, but this is proof positive that the reform was needed, and that the letters that were later unified already, and for quite a while, sounded exactly the same to little native speakers.
new year we met very gaily () at 12
v
oclock
at night we lighted the tree and we had much
fun () me and my sisters anyuta
[anya]
and tanya went
to read fortune before new year () we asked names ()
() one young man slaitly hit nyuta
[anya]
on the head
with sleigh bells () when we went home and came to
malaya dorgomilovka
[street]
a drunk muzhik
pestered us and we were very scared and run
and he after us () then we saw a gorodovoy
[road policeman]
and told him that a drunk muzik pesterd us () he
berated him () all this happened on year 1911 () my
birsday i spent with my moms frend () but i spent it
very gay i was with my sister tanya () we and 1 more
miss went to diviche pole
[place in Moscow]
()
there we went to ilectrik theatre () there they
showed about piter the great how he built his
poteshny regiments
[toy army]
then showed
how he orested and admited to the veil
[his sister]
sofya then showed how his discovered 2 plots then
i rode carusels () last winter i went skatin ()
this winter i dont skate because my plates are
not screwed on () a dreadful disaster happened with
us our beloved by all brother kolya disapeared ()
we all cried alot especially cried mom and dad ()
i already started learnin () i got 4
r
as
[A's]
()
today i played around and the master put me on my
knees for the 1
t
time () we think that
afteral kolya shall return () i bought a pencil
box for 15
en
kopeek very pretty and am
very happy () i wrote that our beloved by all brother
kolya disapeared but i forgot to write when he
disapeared () he disapeared on saturday 8
th
january () today the master placed me as a post
because i turned to another desk where sits
stipanov and started to talk with stipanov ()
they gave us slavic azbuka
[ABC]
()
father bought us with tanya new
[protective]
cloth for books very good () one boy who
learns with us acsidentaly pushed another boy
who learns with us too during vesper and the boy
split open his head () father oleksey wanted
to expel him then said that if he does
something else then tell me () father nikolay
came to us father sergiy father oliksey and
the master and the singin master () father
nikolay asked who i was () i said that i am
a peasant () then he asked how old i am i said
that i am 10
n
() and the master asked what was
my name i said lev ()
Current Mood:

amused