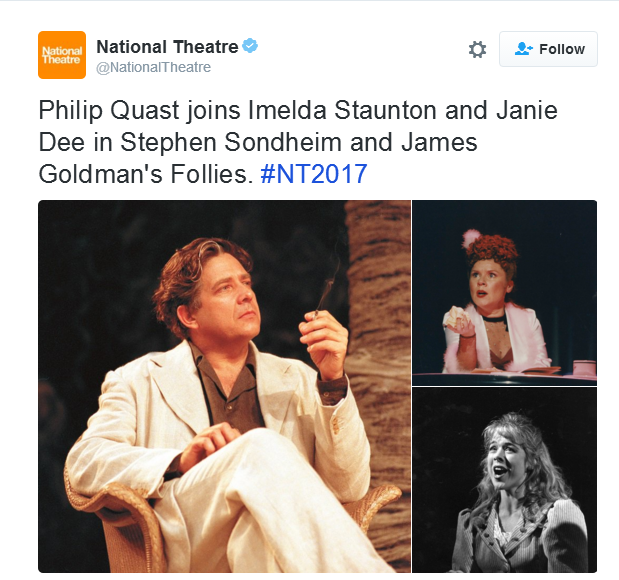 National Theatre


[Screen grab of the National Theatre tweet linked above. Text: Philip Quast joins Imelda Staunton

and Janie Dee in Stephen Sondheim and James Goldman's Follies.

#NT2017

. Image: collage

of images of the three stars in various plays (presumably. I am not familiar enough with the career

of any of the three to identify the roles).




Скриншот твита National Theatre на который ссылка выше. Текст: Филип Кост присоединится
к Имельде Стонтон и Джейни Ди в постановке спектакля Follies Стивена Сондхайма
и Джеймса Голдмана. #NT2017. Изображение: коллаж фотографий этих трёх актёров
в различных пьесах (как мне кажется. Не знаю карьеру ни одного из них настолько хорошо,
чтобы понять, что это за роли).

]

У меня внезапно появились планы на следующую осень: Англия и пьеса мюзикл?, о которой я не знаю ничего, и ничего не собираюсь узнавать.

Конечно, по дороге много всяких неприятных мелочей: деньги, виза, логистика (поездку придётся строить вокруг и около преподавательской деятельности, которой мне угрожают уже полгода). Но это всё именно мелочи. Неприятные, нудные, трудоёмкие, и в конечном счёте несущественные.

Пока же привет, потолок. Ещё увидимся, логическое мышление.




*****



I suddenly have plans for next fall. London and a play a musical? I know nothing about, and am not going to learn anything about until then.

There are many unpleasant stumbles on the way: money, visa, logistics, having to find time around, and possibly over the teaching stunt I'm constantly threatened with for the last half a year. All these though are but inconsequential, annoying, unpleasant and necessary parts of the road.

Hello, ceiling. See you, rational thought.

[

Image description HTML — HTML для описания картинок

]

Replace square brackets around "textarea" with angular ones! — Заменить квадратные скобки вокруг "textarea" на угловые!

Current Mood:

excited