I was seven and my brother six when our parents gave into our pleas and decided to get a dog.


The first dog we had was a boy called Tishka, and he was only with us for seven months before he ate something in the street and died. According to rumours, whatever it was had been deliberately poisoned and left in the street to kill dogs.


The second dog we had was named Belka, and she did not survive the week. We got her in winter, from a woman on a street fair; she was wrapped in warm cloth and we did not notice she had ringworm until we brought her home. Ringworm is curable, but they told us at the vet clinic that they had to analyse hers to know which type she had, that it would take up to a week for results to be ready, and that they could not keep her, that she would have to stay home with us all the time. I was nine and my brother was eight, and mother did not believe she could keep us from catching the ringworm from the dog, and because "we were not yet attached to her" she made the decision to put her down.


The third dog we had was also called Belka (a popular dog name in Russia meaning "Squirrel"). We got her a year after Belka the first from a woman who used to feed strays, decided to take one of them in yet couldn't keep up with her. Belka the second was small with soft white fur spotted black; one of the larger black spots encircled one of her eyes and made her seem half-blind until you got used to it (she wasn't). Mother did not like her much at first but appreciated her vivacity.

We took Belka in, and the very next day she ran off during a walk (there was no leash regulation then; the one existing now is not enforced). Brother and I came home from school that day and were met by a distraught mother who had looked for the dog for a couple of hours without success, and returned home only because she had to cook us dinner. We were then sent out at once to look for Belka again while dinner finished cooking (people were much less paranoid about letting kids out on their own in broad daylight in the immediate neighbourhood 25 years ago).

The day was grey and it drizzled with rain. I was wearing a long jeans jacket that I did not put on very often. Looking for the dog without mother present was strange and unsettling. We did not find her.

When we returned home though, mother opened the door with an armful of freshly washed dog. Belka had returned on her own, and sat quietly by our apartment door unsure if she would be let back in. Our floor neighbours rang the bell and asked if she was ours.

Mother says that when Belka ran off on her that day, she became convinced that having a dog was not something our family were destined for, yet when the dog found her way back home after only one day, it was a very promising sign.

Belka the second stayed with us for almost 14 years. She ran off on several other occasions but always returned, and very soon she learned to bark from behind the door demanding to be let in.

Yet for at least the first five years, we kept finding half-eaten bones and dried out tasty morsels under beds, inside the wardrobes and behind furniture.


The fourth dog we took in is Gera (after the Greek goddess Hera). We found her through a newspaper ad two months after our second Belka had died. Gera was never a stray, but she was unplanned, unwanted and given into a foster program by the family whose dog gave birth to her together with her litter sister.

We were not sure we wanted to take Gera in at first. She was bigger than our previous dogs, and rough around the edges, and after we met her, her keeper admitted that she and her sister were the only two in the litter to have survived distemper.

This was part Belka the first and part Tishka all over again, a weak dog who possibly was not going to survive long after we had just lost Belka the second. But during that first meeting, Gera did something that we couldn't forget. While her sister was prancing around, Gera sat at my feet, on my feet, and looked up at me with her huge sad brown eyes.

We took her in two days later, and never regretted it in the ten years that have passed since. The beginning was not easy. While never a stray, Gera was traumatized by her previous caregivers who apparently chose the imaginary safety of emotional distance from the animals who stayed with them temporarily over the emotional security of these animals. Gera had never learned to walk on a leash without running this way and that in mild panic, she was not used to travelling by public transport and she had never been held. The stark incomprehension on her face and stiffly stretched out legs the first time I lifted her into my lap were heartbreaking.

It took her a year to relax and two to stop constantly expecting something underhanded, but she was still mistrustful and fearful her situation was only temporary. It took letting her sleep in our beds (something that is, strictly speaking, not recommended, because dogs bring dirt and worse things in on their paws and fur. Something at which we'd failed miserably with both Tishka and Belka) for her to finally settle down and believe she was home.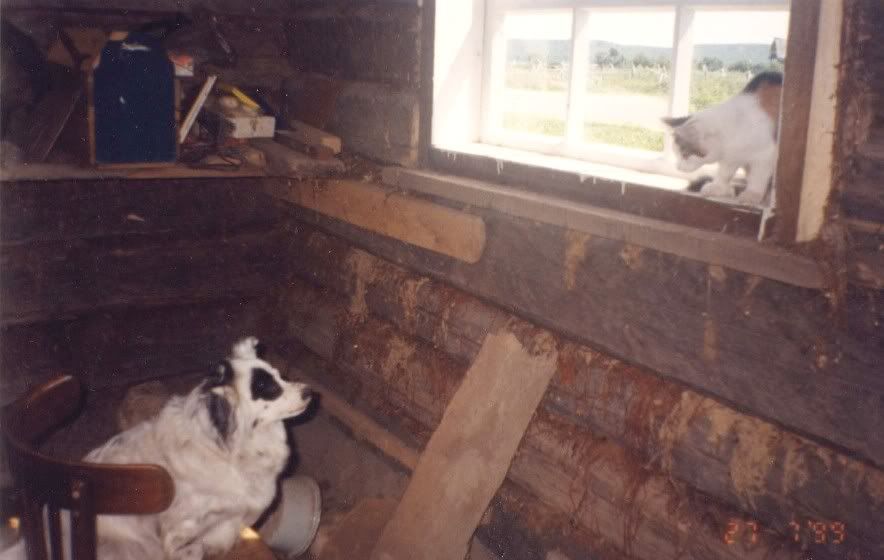 Belka, and Shtopka our family friend's cat.
Image taken inside a wooden country house, from the inside toward the window. On the left, Belka the second is sat at attention on an old chair facing right. She is looking up at Shtopka the cat perched in the corner the window sill with her back bent upward, posture screaming "don't come nearer!"
Gera.
Image of a young Gera sitting on an unmade bed attentively facing the camera with wide eyes and ears standing up on her head.
*Cutting the cards is a number of actions with the deck performed by other players with the card deck after it has been shuffled by the dealer which are meant to prevent cheating.
Current Mood:

sleepy

Current Music:

Joe Dassin - Le cheval de fer